Today we celebrate the birth of noted author of Gone with the Wind, Margaret Mitchell. Born in Atlanta Georgia in 1900, Ms. Mitchell drew her influences from her experiences in the south. The Pulitzer Prize winner continues to influence us today.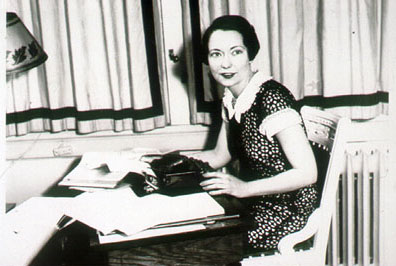 Mitchell descended from a long line of military men on her father's side, tracing her roots back to the American Revolution and the War of 1812. Her paternal grandfather, Russell Mitchell fought in the Civil War and suffered two bullet wounds to the head during the fighting of Antietam. Mitchell's mother's family were Irish Catholic immigrants who had settled in the Atlanta area several generations prior to Mitchell's. Margaret's parents were Eugene Muse Mitchell, a noted Atlanta attorney, and May Belle Stephense, a staunch suffragist. They would exercise great influence on Mitchell's fictional characters.
From a young age, Mitchell was fascinated by the Civil War stories she heard from Confederate veterans. She soon began writing her own stories and plays, often casting her own friends and inviting the neighborhood to her front porch to watch the performances.
In the fall of 1918, Mitchell entered Smith College; however her tenure in school was short lived. First her fiancé, Clifford Henry, was killed in action during World War I. Then the following January her mother died during the Spanish Flu outbreak of 1919. Mitchell was forced to leave school to take charge of the Atlanta household as the mistress of the house for her father and brother.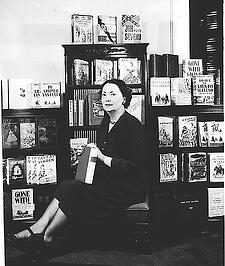 In 1922, Mitchell married Berrien Kinnard Upshaw. Theirs was a rocky marriage which ended in divorce after only two years. Also in 1922, financial pressure led her to begin working for the Atlanta Journal Sunday Magazine. She used "Peggy Mitchell" as her byline during her four-year tenure with the magazine. She wrote 129 articles, worked as a proofreader, substituted for the advice columnist, reviewed books, and occasionally did hard news stories for the paper. However, complications from a broken ankle led to an end for her career as a journalist.
Mitchell's second marriage was to John Robert Marsh on July 4th, 1925. The couple moved into a small apartment, which they affectionately nicknamed "The Dump" It was here, in 1926 after she left her job to convalesce, that she began writing the book that would make her famous.
Gone with the Wind was published in June, 1936, and it was an immediate success--quite a feat given that the country was at the height of the Great Depression. Mitchell was awarded the Pulitzer Prize for her novel the following May. It was then made into an equally lauded motion picture starring Vivien Leigh and Clarke Gable, which premiered in December 1939. The film broke all previous box office records and garnered ten Academy Awards.
Following the publication of the novel and the release of the film, Mitchell had tremendous financial resources. She put these to good use supporting philanthropic interests including one in which she led a war bond drive to raise the funds to replace the USS Atlanta, which was sunk during World War II. She christened the new ship in February of 1944.
Unfortunately Mitchell's story was cut short when on the evening of August 11th, 1949. While crossing an intersection with her husband on the way to see a movie, Mitchell was struck by a taxi. She died of her injuries five days later. Mitchell's Lost Laysen, a novella Mitchell wrote as a teenager, was published posthumously in 1996. Though Mitchell was not a prolific author, her iconic novel lives on in the hearts and minds of many a literature lover.