When one hears the name "Ronald Reagan" many titles come to mind—actor, politician, president. And while in this day and age, many Hollywood stars participate in politics and make their political voices heard (aided, of course, by massive social media platforms and the resulting exposure), thirty years ago when Reagan made the jump from actor to Governor of California and, subsequently, to President of the United States, he was a bit of a trailblazer. Indeed, Reagan's charisma charmed the Republican party and the American people. When he left office in 1989, his approval rating was a sky-high 68%, making him as popular as Franklin Delano Roosevelt before him and Bill Clinton in his wake.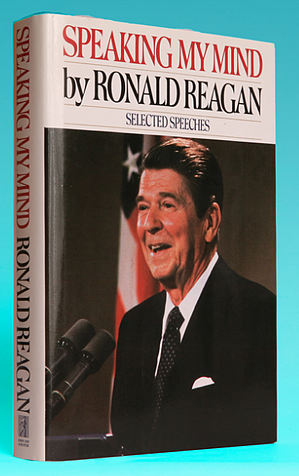 Reagan and his family leave a strong literary legacy, as well. The former president made his final public appearance in 1994 after releasing a letter telling the American public about his Alzheimer's diagnosis. While President Reagan died in 2004, he has been immortalized through his own words and through the words of those closest to him.
The Reagan Diaries
If you're fascinated by the minds of leaders, movers and shakers, and those in positions of power, this collection of Reagan's diary entries while in office as President of the United States might be your favorite book on our list. Admittedly, Reagan wasn't a huge word guy, at least not a written word guy. His speeches are more dynamic, to be sure. His jots are simple, matter-of-fact, and as an article in the New Yorker notes, based on Reagan's diary entries, he made the presidency seem almost boring. But perhaps that is what will fascinate you most about this book.
Take this excerpt:
Sat. Jan. 31 - Had a before lunch walk. (It was cold.) Spent afternoon in front of fire reading intelligence reports & Briefing papers for visit by Pres. Chun (Korea). We have definite evidence Nicaragua transferring hundreds of tons of arms from Cuba to El Salvador. p.m. ran a movie—"Tribute"—Jack Lemmon. He is truly a great performer.

...

Wed. Feb. 11 - Intelligence reports say he Castro is very worried about me. I'm very worried that we can't come up with something to justify his worrying.
Reagan never missed a day writing in his presidential diary, except when he was hospitalized (he does detail his health maladies throughout the course of his diary entries, too). Therefore, the book is a lengthy one. But it is definitely worth the time of a Reagan enthusiast or a presidential collector in general.
Speaking My Mind by Ronald Reagan
Alongside Reagan's diary entries in The Reagan Diaries stands his speeches, collected in Speaking My Mind. Reagan selected which speeches to include, and they give an interesting snapshot of his time as president, detailing both major moments in his eight years in office as well as some of the more mundane aspects of the presidency.
Reagan is known for his speeches. After all, his delivery of what became well known as "A Time for Choosing" in the 1964 presidential campaign on behalf of Republican Barry Goldwater catapulted Reagan into political stardom.
My Turn: The Memoirs of Nancy Reagan by Nancy Reagan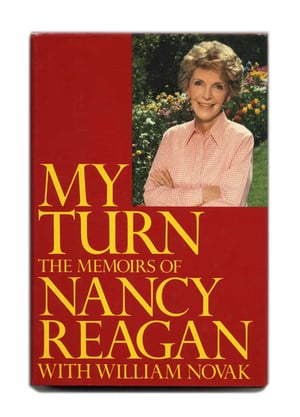 If political power-heads and movers and shakers are interesting to you, then perhaps hearing from their significant others is likewise a fascinating experience.
In My Turn (1989) we get a glimpse of Nancy Reagan's life as first lady. The book is in response to others who have taken their "turns" to offer commentary and discussion about her husband's presidency and her role. In My Turn, she attempts to tackle tough questions and rumors. She also explains her relationship with her husband and her children. R.W. Apple Jr. wrote in his rather scathing New York Times review of the book upon its publication:
"And few parents will be unmoved by Mrs. Reagan's frank account of her own shortcomings and frustrations in dealing with two children and two stepchildren that she sums up in two poignant sentences: ''What I wanted most in all the world was to be a good wife and mother. As things turned out, I guess I've been more successful at the first than at the second.''
I Love You, Ronnie by Nancy Reagan
From the publisher:
"No matter what else was going on in his life or where he was—traveling to make movies, at the White House, or sometimes just across the room—Ronald Reagan wrote letters to Nancy Reagan, to express his love, thoughts, and feelings, and to stay in touch. Through these extraordinary letters and reflections, the private character and life of an American president and his first lady are revealed. Nancy Reagan reflects with love and insight on the letters, on her husband, and on the many phases of their life together. A love story spanning half a century and the private life of this classic American couple come vividly alive in this rare and inspiring book."
Are you a sucker for a good letter? If so, this book will be right up your alley. It offers us a detailed look at the relationship of Ronald and Nancy through what has become a lost art form. What an important historical artifact I Love You, Ronnie is when you consider that nowadays the trail of correspondence between two people in love is an email thread or brief text messages.
Still interested in Ronald Reagan books?
Other books that may be of interest to fans of Reagan and his life and career include On Politics and the Art of Acting by Arthur Miller.

Sources: CBS News, The New Yorker, Vanity Fair, New York Times