Counter culture is an interesting phenomenon. Many may be dissatisfied with the current state of things, but this doesn't mean they agree in their response. In the 1960s, some executed their discontent by protesting on campuses, while others departed from society at large to join communes. We tend to remember the groups that emerged during this formative era. But, writer Richard Brautigan created a counter cultural presence all his own.
Brautigan did not identify with the hippies or the Beats, despite his proximity to them. Living in San Francisco in the '60s, he was surrounded by activists and bohemians. He gave readings at the famous City Lights Bookstore, and attended parties with the likes of Janis Joplin. In a hodgepodge of colorful figures and collectives, Brautigan retains his unique and distinct character.
If Richard Brautigan challenged his American life, it probably didn't help that life was never that kind to him in the first place. He was raised by his mother, with appearances from a step-dad who was wretchedly abusive. The family was impoverished and lived in squalor, and Brautigan recalled picking rat droppings from flour before use. Hunger was no stranger to him during his childhood, and in one harrowing instance, Brautigan, only six years old, was left in a motel room for two days with his infant sister.
Despair and neglect would punctuate the writer's entire life. In his youth, he broke a precinct window to be arrested, just so he could be fed and housed for the night. His sense of placelessness would later lead him on the humble journey that would inspire his work, Trout Fishing in America. The trip began in 1961, when Brautigan, his wife Virginia, and their daughter Ianthe moved from their San Francisco apartment and hit the open road. They loaded a station wagon with camping gear, books, and a portable typewriter, and lived on campgrounds all along the American Northwest.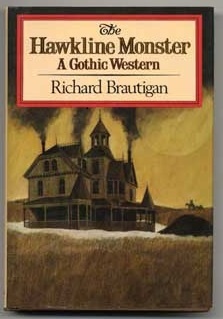 Brautigan had a rod and reel (that has since been sold in an eBay auction) which he used to fish in the rivers and streams of the parks and wilderness he encountered. He transmuted this experience into a superbly strange book. Trout Fishing in America was published in 1967. In it, one gets the sense of deracination, rootlessness, and the elusive, cold, sliminess of a pursued trout. But Brautigan is something of an optimist, too, and postures himself as a clear heir to Hemingway, Thoreau, and other writers of the great outdoors as a place of discovery in a chaotic, ever-changing world.
Although he is most famous for his novels, in a sense, Brautigan was never able to stop writing poetry. Even his prose betrays the semantic playfulness of a poet. Much of his career was spent giving readings of poetry, especially intimate ones to groups of students who saw a prophet in this charming, although troubled, man. It was not unusual for him to arrive to a reading with his manuscripts in one hand and a jug of wine in another—which he then had his audience sit in a circle and share.
Happy endings, unfortunately, are in short supply in the life of Richard Brautigan. The author brought his life to an end in 1984, a gunshot splattering blood over manuscripts he was told were unpublishable. His body was discovered a month later, and his own father claimed he didn't know he had a son until after the shock of his death became known. He reached a lamentable end, one that puts Brautigan in the company of his major influence, Ernest Hemingway. But we would be mistaken to let the tragedy of the writer's suffering and death overshadow work that is so filled with life.

*Source here.