Richard Russo believes in books — the people who write them, the people who publish them, and the people who get them into the hands of readers. As one of three Vice Presidents of the Author's Guild, along with Judy Blume and James Shapiro, he has put on the mantle of defender of what he calls, "the writing life." As such, he says he wants to see all areas of the literary "ecosystem" flourish. To maintain the health of this ecosystem, he has taken an active role in promoting young writers, supporting libraries, and advocating for the diversity of the publishing industry.
Paying It Forward
In an effort to make sure the writing life is passed on to the next generation of writers, Russo has taken young authors under his wing, and is working to create programs that introduce newly-published writers to readers. One such program is a literary introduction series being filmed at Think Tank Coworking in Portland, Maine. The series is hosted by Russo and involves a 10-minute reading by a featured new author followed by a conversation between the author and Russo. Russo hopes to expand programs like these across the country as well as foster community among emerging writers with the aid of media such as local NPR, Google Hangouts, and YouTube.
Russo says his idea for the literary introduction series came about after numerous conversations with new authors in which he realized many of the opportunities to break into publishing that were available to him as a young writer no longer exist, and the types of jobs writers take in order to pay the bills while trying to break in are becoming extinct. "They were giving up," he told Bangor Daily News. "I thought we need to come up with some concept, a strategy here to make up for the loss of so many independent bookstores, book sections in papers, book tours for younger writers...this is the next generation. They are good, talented — as good as we are — but no one knows about them. We have to put bread and beer on their table."
Home Is Where the Heart Is
Author of 13 books including the Pulitzer Prize-winning novel Empire Falls, Richard Russo writes about working class life in small town America. The setting for many of his books has often been a fictional version of the town where he was born and raised, Gloversville, New York. Once the center of the glovemaking industry, the town fell on hard times when the glove industry began to deteriorate, leading to the hardscrabble existence of many of its residents. His depictions of the town have not always been flattering, but it is clear that Gloversville is in Russo's blood. Russo has been known to say that Gloversville is to him what Dublin was to James Joyce.
The dilapidated library at the town's center certainly left its mark on a young Richard Russo. He told the The New York Times, "I have such fond memories of the place, going there Saturday mornings with my grandfather or mother, who would wait forever for me to pick books. I just have this feeling that if it weren't for the Gloversville Free Library that I probably would not be a writer." So, after several failed attempts by the town to raise enough money to renovate the library they turned to the defender of the writing life himself to be the honorary chair of a capital campaign to raise $7 million for the library. So far the campaign has successfully raised $2.4 million.
A Place in Publishing for Everyone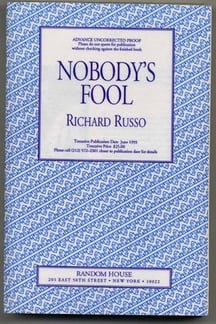 Russo sees the value in cultivating a diverse literary environment, one in which all writers burgeon. Although he disapproves of the devices Amazon has used to get cheaper prices from publishers, he recognizes Amazon's value as a home for indie authors and a platform for selling books. In an open letter published on the Author's Guild website about the dispute between Amazon and Hachette he wrote, "What we care about is a healthy ecosystem where all writers, both traditionally and independently published, can thrive. We believe that ecosystem should be as diverse as possible, containing traditional big publishers, smaller publishers, Amazon, Apple, Barnes & Noble and independent bookstores, as well as both e-book and print books."
As defender of the writing life, Russo is doing his part to ensure the health of an ecosystem that nourished his own writing life. In doing so, he's making sure it will be alive and well for generations to come. Currently, he lives in Portland, Maine with his wife, Barbara. He is working on a sequel to Nobody's Fool, which is titled Everybody's Fool.