Do you live in the Bay Area, and are you just starting to put together a rare book collection? Are you traveling to San Francisco at any point in the near future? The Bay Area is truly an antiquarian and rare book treasure trove. From rare bookstores to antiquarian book fairs to rare book archives, you couldn't ask for much more than everything the Bay Area has to offer. While our title centers in San Francisco, we want to introduce you to the rare book scene in the Bay Area more generally, and to encourage you to plan several days of book hunting in San Francisco, Berkeley, and Oakland. And, quite frankly, several days probably won't be sufficient. You'll want to keep coming back for more.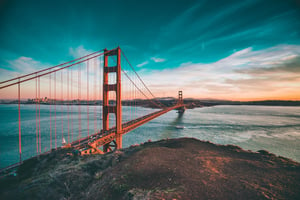 Rare Bookstores in the Bay Area
San Francisco's rare book scene couldn't possibly be concentrated in San Francisco alone—the city is part of a broader area that is home to so many incredible rare bookshops. To be sure, there are a wide variety of rare bookstores throughout the Bay Area, and we'd need a lot of space to list all of them. So, as you read, keep in mind that our list is only the tip of the iceberg, so to speak.
While we certainly want to tell you about places where you can shop for rare books, we actually want to start by telling you about a couple of rare book establishments that no longer exist. Why? You might discover an interesting broadside printed by one of these stores, or you might find an old receipt or paper bookmark that gives you some information about the sales history of the book you're holding. Most notably, Black Oak Books in Berkeley closed its doors after 33 years in business in 2016. During its time, Black Oak Books was responsible for printing a number of incredible broadsides, largely of Bay Area poets and writers or those giving readings in the area. Shakespeare & Co. was another used and rare book institution in Berkeley on Telegraph Avenue, and it closed its doors in 2015 after 51 years in business. And just a few years prior to the closure of Shakespeare & Co., Serendipity Books in Berkeley closed after 46 years in business. Serendipity was known for selling rare books to UC Berkeley's Bancroft Library.
Okay, let's get to the stores that are still around in which you can discover a new and incredible find for your collection. Since we were hovering in Berkeley just a moment ago, let's start there. Moe's Books, an institution on Telegraph Avenue, has an entire section of its multi-floored store dedicated to rare books, from rare poetry and fiction to fine art books. You don't need an appointment—stop in to browse! In terms of appointment-only shops, we love Jeff Maser's warehouse of wonders in Berkeley. He focuses on modern and contemporary poetry and fiction, but he also has a lot more. Only a small portion of his expansive, multi-room warehouse is catalogued, so send him an email or give him a call to find out more about stopping by. To shift to downtown San Francisco, Thomas A Goldwasser has some incredible rare first editions, manuscripts, and illustrated books for sale. Of course, the famous City Lights Books is in downtown San Francisco, too.
If you're up for a bit of a drive, it's also worth traveling down to Palo Alto, where you can visit Bell's Books. Similar to Moe's Books, Bell's Books has a selection of rare items for sale and also has new books for purchase.
California International Antiquarian Book Fair
Every other year, the California International Antiquarian Book Fair comes to Oakland, California. It typically features more than 150 different booksellers who come to northern California from more than 30 different countries. Yes, you guessed it: this book fair is one of the largest on the globe, and it's often one of the book fairs for which sellers and collectors are willing to travel. In 2019, the book fair was in its 52nd year. Buyers can expect to find rare books, manuscripts, ephemera, photos, and much other rare and valuable print material.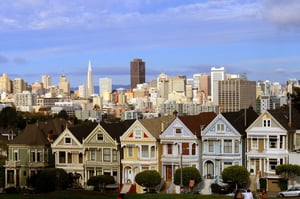 Special Collections Libraries in the Bay Area
Are you thinking about conducting research in some of the library archives while you're shopping for rare books in the Bay Area? Your first stop should be UC Berkeley's Bancroft Library. The Bancroft Library has a wealth of rare book collections, including an archive of medieval manuscripts and incunabla, a John Milton Collection that "includes nearly all the variants of the first edition of Paradise Lost," and a wide range of works by 19th- and 20th-century American writers, from Jack London and Nathaniel Hawthorne to Carl Sandburg, Gertrude Stein, Ezra Pound, and William Carlos Williams. The large holdings in American poetry shouldn't be surprising, of course, given Berkeley's history as a hub for modern writers and poets.
While you're visiting Bell's Books in Palo Alto, you can also make an appointment at Stanford University's Special Collections & University Archives. The collections range widely in genre, geographic area, and temporality. Some examples include the R. Buckminster Fuller Collection, the !Women Art Revolution collection, the History of Artificial Intelligence collection, a collection of Japanese Juvenile Literature, the Joseph Brodsky Papers, a Stanford manga collection, and the Yevgeny Aleksandrovich Yevtushenko Papers.
There's such a huge rare book scene in the Bay Area, and there's so much to discover. We've only given you a handful of starting points. Check out some of our favorites, and then seek out more rare bookstores, fairs, and archives while you're out in northern California.