On his Twitter profile, Scott Turow relays that he's "Considered by many as the Father of the Modern Legal Thriller." Time magazine would concur. It featured him on its June 11, 1990 cover and called Turow the "Bard of the Litigious Age." The issue goes on to ask, "Is he a lawyer who writes novels or a novelist who is a lawyer?" Time answers its own question stating: "In practice, as he demonstrated in his best-selling Presumed Innocent, Turow is both; his fiction bridges the divide between the popular and the serious, and the subject that keeps his readers turning pages is deeper than satisfactory verdicts. The pertinent evidence involves the redemption of souls."
In interviews, Turow says that creative writing was always his first love and aspiration, and the thrill he felt studying law came as a later surprise. During the course of his 43-year career, he has managed to excel at marrying together both of these passions.
Turow was born and raised in Chicago. He attended Amherst College where he was a member of the Alpha Delta Phi literary fraternity. After graduating from Amherst in 1970, he went on to study at the Sanford University Creative Writing Center on the Edith Mirrielees Fellowship. Following the completion of his study, he taught creative writing at Sanford from 1972-1975. In 1975, he began his first year at Harvard Law School, an experience he wrote about in his first work of nonfiction, One L (1977). In 1978, he earned his Juris doctorate and returned to Chicago to serve as an Assistant U.S. Attorney, a position he held until 1986. During his time as Assistant U.S. Attorney, he worked on several high-profile cases. He prosecuted the tax fraud case against state Attorney General William Scott and served as lead counsel in Operation Greylord, an investigation of corruption in the judicial system of Cook County, Illinois.
Upon leaving the U.S. Attorney's office in 1986, Turow's literary career took off. His debut novel, Presumed Innocent, not only became a best seller, but it was also made into a movie starring Harrison Ford. The Burden of Proof (1990) was his second novel. It too became a best seller and was eventually turned into a miniseries starring Brian Dennehy. Turrow's fourth novel, Personal Injuries, was named Best Fiction Novel of 1999 by Time. In total, he has written ten bestselling novels. His latest is Identical (2013). He is currently working on a young adult novel.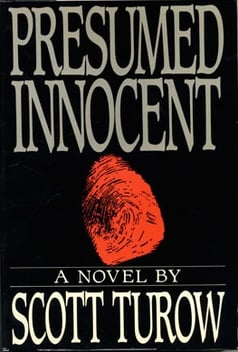 Despite his literary success, he continues to practice law. He's a partner at Dentons International Law Firm where he does most of his cases pro bono. In 1995, he represented Alejandro Hernandes, a man who'd spent 11 years on death row convicted of murder. Turow proved Hernandes's innocence, winning his release from jail. In 2000, Turow was appointed by Illinois Governor George Ryan to a commission for the reform of capital punishment, and his nonfiction work Ultimate Punishment about the death penalty received the Robert F. Kennedy Center for Justice and Human Rights 2003 Book Award.
So, is Scott Turow a lawyer who writes novels or a novelist who is a lawyer? Time magazine is right; he is both...and an occasional rockstar to boot. When he's not busy practicing law or writing, he can be found wearing a rainbow wig and performing with the band the Rock Bottom Remainders, which includes writers Dave Barry, Stephen King, Matt Groening, Barbara Kingsolver, and Amy Tan, among others. The Remainders tout their music as "hard listening" and play together for fun and to raise money for literary charities. On their website they boast that they are: "Hailed by critics as having 'one of the world's highest ratios of noise to talent', the Remainders have no music videos, no record contract, no Grammy nominations-but do have over 159,000 hits on Google."