If you can't read much Japanese, you'll likely have some difficulty finding books of any particular authors on your list. However, that doesn't mean you won't wholly enjoy browsing in Kyoto's antiquarian bookstores. Indeed, from Ukiyoe (woodblock prints) to handmade artists' books, you'll be amazed by the beautiful objects lining the shelves of the shops in Japan's former imperial capital.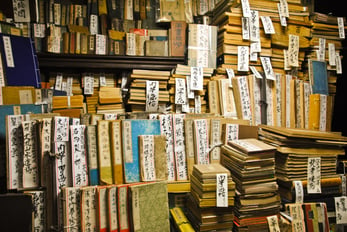 Browsing the Shops in Kyoto
First thing's first: where should you look? The International League of Antiquarian Booksellers (ILAB) lists four bookstores in the city that are members. Each, too, is affiliated with the Antiquarian Booksellers' Association of Japan. Most of these shops are centrally located, but they might require a quick trip on the Kyoto Municipal Subway. Luckily for would-be browsers, the ILAB listings provide handy maps of each of the stores' locations.
But what about visitors to Japan who are hoping to discover antiquarian bookshops on their own? Are there particular places to stroll in hopes of passing by stacks of books? Yes! The Teramachi and Shin Kyogoku shopping arcades (covered pedestrian streets) offer numerous antiquarian bookshop options for the Kyoto flâneur. To be sure, you'll see a number of stores with sewn and glued books stacked high, both outside and inside. And you only need to stop and browse to find something to bring home with you.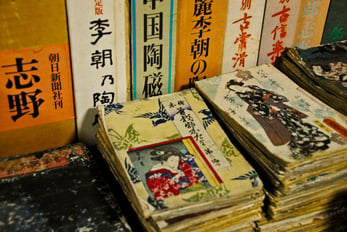 A Brief Explanation of Japanese Book Binding
The history of bookmaking in Japan is vast, so we can't pretend to provide you with all of the information you'll ever need to develop a collection of Japanese handmade books. However, we are more than happy to provide you with some key terms to help you as you browse the shops in Kyoto.
First, you're likely to see books that are both glued and sewn in the antiquarian stores in Kyoto. What's the difference? Many glued books look like they're constructed, at first glance, with one incredibly long piece of paper. However, upon closer inspection, you'll see that they're made up of many different pieces of paper glued together. You might see Kansubon, which are antique Japanese scrolls, or Detchōsō, which are folded books. In other words, if you were to hold the book from both covers, the inside papers might look something like an accordion. They come in a number of different shapes and sizes, from small pocket-sized square books to large over-sized rectangular books. Books made in this style are still very popular among artists in Japan, and if you're lucky, you might find a few with watercolor paintings lining the pages to bring home with you.
Sewn books, or Tetsuyōsō, are held together by one of several different stitch styles. Let's take a quick look at some of the stab-binding styles you might see. Like certain glued books, sewn books remain immensely popular, and you can even learn to make them yourself. But in terms of identifying the objects you're seeing in Kyoto, we thought we'd describe the most common (and least elaborate) of these bindings: Yotsume Toji, or the simple four-hole binding. You can easily identify this binding because, as the name suggests, the handmade book will have four holes through which it has been bound. Other types of stab-bindings include: Koki Toji, or the Noble binding; Kikko Toji, or the tortoise-shell binding; and Asa-No-Ha Toji, or the hemp-leaf binding.
Both styles of bookmaking have been used for many years in Japan, and historians estimate that printing practices actually began more than one thousand years ago. While most of the books you're likely to find won't be quite so old, you may locate some exciting texts from the 18th or 19th centuries to add to your collection.
From pages filled with watercolor paintings to those with colorful woodblock prints, Japanese books offer something exciting for any collector interested in practices of printing, paper making, and bookmaking. Indeed, you'll likely need only to step a few blocks away from each bookstore you discover to find a store selling washi, one of the earliest papers made in the country and a style heavily used for printmaking. We recommend that you absolutely don't leave Kyoto without examining at least one book with woodblock prints on washi — you'd be doing yourself a disservice!