Whenever we're traveling for business or pleasure, we make sure to carve out a few hours—or more!—to visit local rare bookstores. When it comes to a stop in Seattle, there are some fantastic shops that specialize in a range of rare books and ephemera. While Seattle is often remembered as a city that introduced the rest of the country (and the globe) to grunge music and the sounds of bands like Nirvana, Soundgarden, and Pearl Jam, it's also a city with a rich cultural and literary history. The rare book scene in Seattle should interest both casual and serious collectors alike.
Rare and Antiquarian Bookstores in Seattle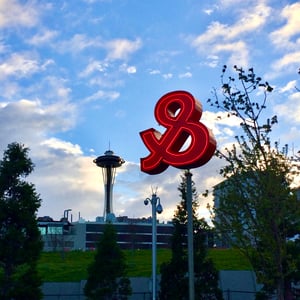 There are a variety of rare and antiquarian bookstores in Seattle, and we're crazy about a number of them. We want to begin by telling you about an area with a high concentration of rare books and related shops: Pioneer Square. Arundel Books not only sells rare books (we particularly enjoy browsing the fascinating range of twentieth-century poetry chapbooks), but it also hosts literary events. It's located, as you might have guessed, in Pioneer Square. It's also linked to limited edition books and small press works. Owner Phil Bevis has been working to turn the area into a "book district," according to an American Booksellers Association (ABA) article.
The Antiquarian Bookstore The Globe Bookstore is located in the same building as Arundel Books, and both shops share a space with the rare book bindery Ars Obscura Bookbinding & Restoration Co. While Bevis founded Arundel Books in Los Angeles in 1984, his second—and now only—location in Seattle has been in business since 1995. If you collect mystery books, the nearby Seattle Mystery Bookshop would have been a great spot; however, it closed its doors in 2017. Be sure to check out their website for continued content, though! And if you're interested in architecture and design books, look no further than Peter Miller Books, located just a short walk away.
Outside Pioneer Square, there are many other used and rare bookshops that are certainly worth visiting. John Michael Lang Fine Books has a wide variety of books for many different collectors, and also offers rare ephemera. Magus Books, too, has an exciting collection of used and rare modern and contemporary books and has been serving the Seattle community since 1978.
Book Fairs in the Seattle Area
The Seattle Antiquarian Book Fair also comes to town for a couple of days every October. If you're in Seattle, you'll have access to over 100 exhibitors from across the country, and many global booksellers, as well. Beyond the annual antiquarian book fair, we are also eagerly anticipating the inaugural (and hopefully annual) Seattle Art Book Fair. Over one weekend in May, residents of and visitors to Seattle can learn more about artist books from local, national, and international artists, as well as books arising out of independent and experimental publishing.
Small Press, Fine Press, and Letterpress in Seattle
Whichever term you'd like to use to describe places creating handmade books, chapbooks, and ephemera—small press, fine press, or letterpress—works for us, and you'll find a number of them in the Seattle area. We already mentioned Arundel Books, and we hinted about the bookstore's side press work. Be sure to check out Arundel Press, which offers limited-edition letterpress works, as well as Chatwin Books, which focuses largely on poetry and literary fiction. In addition to works of fiction and poetry, this small press also has signed, limited edition broadsides for ephemera collectors out there. They have a brick and mortar shop in downtown Seattle.
When you're in the Seattle area, you should also learn more about Sidereal Fine Art Press, which creates editions and monotypes just south of Seattle in Tukwila. The press was formerly located in the Belltown and Georgetown areas of Seattle. Amada Press is another letterpress studio in the Seattle area, if you are looking for broadsides or other collectible works connected to typography. And if you're willing to drive a little ways out of Seattle to special studio in Tieton, you might learn more about the handmade art books of Marquand Editions. The Tieton studio "is equipped to use the best techniques of the 19th-, 20th-, and 21st-century printing, binding, and fabrication techniques."
Artist books and fine press books can be particularly exciting additions to a rare book collection. Most are created in extremely limited editions, and they often involve unique attention to the materiality of the book as object.
Music Ephemera and Vinyl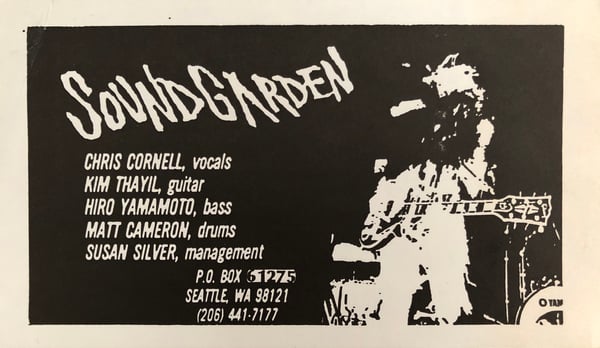 We commented on Seattle being the birthplace of the grunge scene earlier on in this piece. With that in mind, we'd be remiss if we didn't at least mention to you that you also may be able to locate some very rare vinyl and music ephemera in Seattle. While many of the early record stores in Seattle that sold some of the earliest vinyl and ephemera from the Pacific Northwest bands have closed their doors, visitors to the Ballard neighborhood of Seattle can check out Bop Street Records, which has been in business for almost five decades. Seattle residents and visitors alike also love Sonic Boom records, located a very short walk from Bop Street Records.
Some Seattle record stores also have close ties to bookselling. Georgetown Records shares a space with Fantagraphics Bookstore, where buyers can shop for rare vinyl and graphic novels. As the name suggests, the store is located in the Georgetown neighborhood. The store boasts that members of Pearl Jam and Soundgarden routinely drop by the store to check out its recent arrivals. Wall of Sound, located in Capitol Hill, used to be housed in an art bookstore in Belltown, and specializes in avant-garde music and ephemera. Finally, a newcomer to the scene, Hex Enduction Records & Books in Lake City has a wide variety of interesting vinyl and books for sale, many with regional ties to the Pacific Northwest.
If you're in Seattle, be sure to explore the vast rare book (and music) scene that the city has to offer.