On June 16, 1812, an unlikely group of kindred spirits gathered for a meal. Though they came from different social circles and occupations, they shared a common love of books. That night, this group of bibliophiles unwittingly started what is now the oldest bibliophilic society in the world. The occasion for their dinner? The auction of a famed bibliophile's personal library.
Serendipity Leads to Serious Book Collecting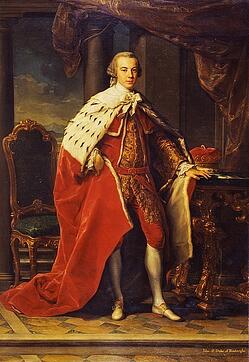 John Ker, Third Duke of Roxburghe (1740-1804), was renowned for his personal library. He traveled to Italy in 1760 to take the Grand Tour. While he was there, the young duke did what was fashionable: he got his portrait painted Pompeo Batoni and he fell in love. In 1761, Spencer met Christina Sophia Albertina, the daughter of the Duke of Mecklenburg-Strelitz. The two were perfectly matched in terms of age, rank, and mutual admiration. But then Christina's younger sister Charlotte was engaged to King George III. It was considered poor form for an older sister to marry someone of lower rank than her younger sisters' spouses, so Christina and the Duke were forced to part ways. Both of them would remain single for the rest of their lives.
Meanwhile, the duke had a piece of better luck: he stumbled upon a first edition of Boccaccio's Decameron, printed by Vardarfer in 1471. At the time, scholars thought that no first editions survived. Roxburghe bought the book for 100 guineas and returned to England with his delightful find. The discovery also awakened Roxburghe's love of collecting. He would go on to amass over 10,000 items, not only books, but also pamphlets, broadsides, and sheet music. As was fashionable at the time, Roxburghe was particuarly interested in Shakespeare and his contemporaries, so that was where he focused his collection.
Roxburghe gained acclaim thanks to his book collecting, an interest he shared with King George III. It's possible that the monarch both recognized a kindred spirit in Roxburghe and realized the sacrifice he'd made in giving up Christina. King George III made Roxburghe Lord of the Bedchamber in 1767 and made him a Knight of the Thistle the following year. In 1797, Roxburghe was appointed Groom of the Stole and named a Privy Counsellor. And in 1801, Roxburghe was made a Knight of the Garter. Roxburghe traveled in the most illustrious social circles, and among book collectors his library was one of the best known in the kingdom.
A(n Almost) Once-in-a-Lifetime Opportunity
Thus when Roxburghe died in 1804, there was considerable interest in purchasing his library. But it would take eight years to dispose of this part of Roxburghe's estate. Thomas Didbin, author of Bibliomania and himself an avid bibliophile, decided the auction was ample cause for celebration. He suggested a dinner for all the book collectors who would attend the auction. The dinner would become an annual event.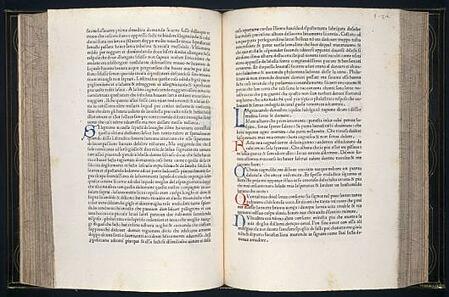 The Roxburghe Boccaccio currently resides at the Rylands Library.
In 1812, Roxburghe's Decameron was thought to be the only extant first edition. Therefore when the book came to auction, a fierce bidding war ensued between George Spencer, Marquess of Blandford (and later fifth Duke of Marlborough) and his own cousin, George John, second Earl of Spencer. Marlborough emerged victorious--and paid a whopping £2,260 for the volume (and Marlborough already owned a later copy, but it was missing five pages). It was a record price for a single book, and no one would pay more until 1884, when Bernard Quaritch paid £4,950 for a 1459 Mainz Psalter at the Syston Park sale.
However, Lord Spencer was the true winner. When Marlborough ran into financial trouble, he had to sell off his personal library. Spencer purchased the Decameron for a cool £918. Enriqueta Rylands purchased the Spencer Collection from the Earl's grandson in 1892, which is how the volume came to its current home at the Rylands Library in Manchester, England.

The attendees at the Roxburghe sale came from many walks of life. They resolved to gather again on the same date of the following year to commemorate the occasion, and the Roxburghe Club was born. The organization is now dedicated to printing unpublished or extremely rare texts, especially those that pertain to English literature or history.
Collectible Limited Editions
The earliest Roxburghe books were reprints of fifteenth- and sixteenth-century pamphlets, of which club members owned the only extant copies. The eighteenth century was characterized by this penchant for "rescuing" books that would otherwise fall into obscurity, and club members would present reprints to one another as gifts. In 1827, George Watson Taylor printed the poetry of Charles, Duke of Orleans, marking the club's move to printing Medieval texts. Today, the club's publications number around 300.
Since the club's inception, Roxburghe books have had distinctive bindings: they're always quarter leather with plain sides. At first, the books were simple, with brown or black calf and maroon paper. But as the club grew more ambitious, the bindings became more luxurious. Morocco backs and buckram sides lend the books an elegance that's often imitated by modern binders. The Roxburghe Club also pays considerable attention to typographical matters, ensuring that the books are beautiful both outside and on each page. It's easy for collectors to devote themselves to collecting Roxburghe editions. They're a wonderful addition to collection of fine press or limited edition books.