Those of us who love books tend to do so on many different levels. We love how they look and want to be surrounded by them—their spines neatly lined up on bookshelves or spiral stacked next to our favorite chair. We love how they feel—the leather-covered or dust-jacketed weight of them in our hands. We love how they sound—the crack of the binding and the rustling as we turn the first pages. But mostly, we love the experience of being transported by them.
Escape is sometimes the goal of reading, and almost always a side-effect of it. Our minds and imaginations live somewhere else for a time. C.S. Lewis led us through a wardrobe door, Roald Dahl presented us with a golden ticket, J.K. Rowling bid us board the Hogwarts Express from Platform 9 ¾, and Lewis Carroll, well, he dropped us down a rabbit hole. As a gifted writer, Carroll could use words to create pictures, but he wanted to enlist the help of an illustrator who could use pictures to create worlds. He chose Sir John Tenniel.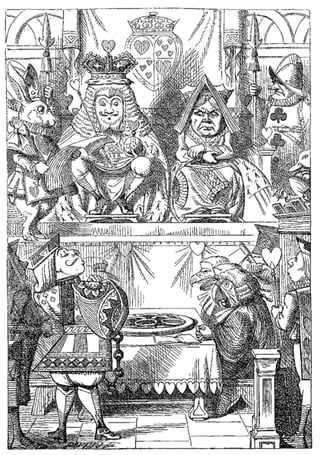 John Tenniel was born in 1820. He attended the Royal Academy of Arts, but he considered himself self-taught with regard to his career. In terms of his art, he was chiefly influenced by the German Nazarene Movement which is evident in his use of thick lines to give the impression of shading and volume. He improved on this technique by including details that grounded his characters in place and time.
He put this technique to good use as the chief cartoonist for Punch, a satirical magazine, where he created over 2,500 cartoons during his 50 year tenure. He also illustrated Aesop's Fables, Dickens' The Haunted Man and, of course Lewis Carroll's Alice's Adventures in Wonderland and Through the Looking Glass and What Alice Found There.
Others have undertaken to illustrate Carroll's classic children's stories, most notably Arthur Rackham, who is considered by some* to be the only one whose work "doesn't disappear into Tenniel's Shadow."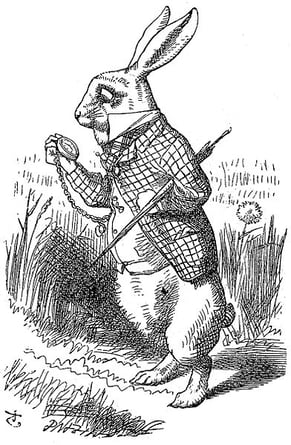 It is Tenniel's depictions of Alice and her adventure, however, that are the definitive interpretation of Carroll's story. It is his White Rabbit that leads us on the adventure, and his Cheshire Cat that grins at us from the tree. It is his Queen who screams, "off with their heads," and his Alice who wakes us from the dream. Through his political cartoons and story illustrations, he has made a lasting impression in the realms of art, history and politics—and most certainly in realm of our imaginations.
*Source here