Good things do often come in small packages. Miniature books are quite literally books that are very small. Miniature books are typically like any other book inside, but printed on a smaller scale- usually with all of the same text and illustrations that a traditional book would contain, just much smaller. Although the current definition of a miniature book is anything measuring less than three inches in width or length, their history is anything but small.
Sumerian Clay tablets with cuneiform writing are said to be the first miniature books. They were written as early as 2500 BCE. Miniature books also appeared in Europe during the Middle Ages. These were frequently prayer books. They were small in order to be easily carried and so they could be concealed when the reader was mingling with a mixed crowd. With the advent of Gutenberg's printing press, these small printed prayer books were fairly widespread.
By the 19th century, books had become substantially more affordable and as a result these miniature books became something of a fad. People around the world collected them, even leaders such as Napoleon Bonaparte, who is said to have assembled a miniature library which he took with him on his conquests, and Queen Mary, who had 171 volumes of short works written for the library of a doll's house (pictured below) designed by renowned architect Sir Edwin Lutyens.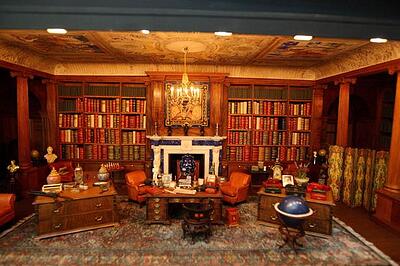 During the 19th and 20th centuries, books were available in miniature on almost every topic, including classic fiction, dictionaries, bibles, prayer books, and other non-fiction works. Towards the end of the century, publishers began to produce miniature books libraries exclusively for children as well.

Detail from Charles Van Sandwyk's miniature book Will o' the Wisps
Over time both printing and binding techniques have improved dramatically, allowing for book makers to continue in their quest to create the smallest miniature books. Today the world record for smallest book belongs to Teeny Ted from Turnip Town by Malcolm Douglas Chaplin which measures in at an infinitesimal 70 micrometers by 100 micrometers. It was etched using an ion beam at the Simon Fraser University in Canada. It is so small that you need a scanning electron microscope to read it.
Collecting Miniature Books
These tiny books inspire intense passions among collectors despite the fact that at times they cannot be read with anything but a microscope and a lot of patience. Miniature books are a worthy collecting focus in their own right, and their availability in so many different topics means that they find their way into a wide variety of collections. Our inventory includes a variety of charming miniatures, from Mark Twain to Gerald Ford, with a number of delightful small press titles. Miniature books make excellent holiday gifts.
Charles Van Sandwyk's Will o' the Wisps is meant "for little hands." The miniature accordion book (also pictured up above) is filled with illustrations of fanciful creatures and features a colophon hand written by Sandwyk.
A classic children's collection from Eloise illustrator Hilary Knight, The Christmas Nutshell Library is housed in its own slipcase. This set is in Fine condition, with original price sticker affixed to the bottom.
Published by Heavenly Monkey, Rollin Milroy's Uncommon Paper features a binding by Reg Lissel and dying by Barbara Hodgeson. It also includes Milroy's (in)famous "go blind" frontispiece, made of nine of the twelves papers used in the book.
This miniature edition of President Gerald Ford's speech to the Republican National Convention on August 16, 1988. This first edition, numbered 79 of 150, is signed by President Ford.
Clement Clarke Moore's classic The Night Before Christmas has become one of the holiday's most beloved tales. There are many miniature versions of the tale, but this one, illustrated by Tasha Tudor, is a favorite. This copy is in Very Fine condition with alike dust jacket.
This tenth-anniversary edition celebrates Rollin Milroy's first letterpress book on the subject of

handmade

Costa Rican paper. El Autobus Azul was produced in a limited, numbered run of only fifty copies.