At first glance, Sherlock Holmes and James Bond may not appear to have much in common. Sherlock Holmes, the detective of 221-B Baker Street in London, originated in the late nineteenth century in the fiction of Sir Arthur Conan Doyle. James Bond, much differently, didn't come into being until 1953 as the British Secret Service agent in Ian Fleming's fiction. Yet if you've found yourself interested in the ever-evolving story of Sherlock Holmes on the BBC or the various ways in which James Bond has been reimagined in fiction and cinema, you might be especially interested in learn about the writings of John Gardner. In addition to penning other detective and spy fiction, Gardner's books include numerous novels that continue the narratives of Sherlock Holmes and James Bond. He wrote three novels that center on Professor Moriarty (the famed nemesis of Sherlock Holmes) in the 1970s and sixteen James Bond novels between the 1980s and 1990s.
If you're interested in Sherlock Holmes or James Bond and are thinking about starting a new collection, why not consider John Gardner? We have some suggestions for starting to shape an exciting collection.
Early Detectives and Spies: The Boysie Oakes Novels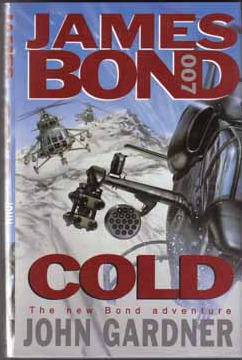 When you're just beginning to create a John Gardner collection, even if you're most interested in his reimagining of Professor Moriarty or James Bond, you might want to frame your collection with at least one of the early works—in which he learned to create the character of a spy—in the Boysie Oakes series.
If you want to begin with just one Boysie Oakes book, you should consider The Liquidator (1964). This is the first in Gardner's Boysie Oakes series. It features the British secret agent named Boysie Oaks, who is recruited into the Secret Service. The first edition was published in the U.K. by Frederick Muller. The dust jacket features a black-and-white image of a bullet, gift-wrapped in a bright red bow. The first U.S. edition, published by Viking Press, also has an attractive dust jacket with four brightly colored target-practice images overlaid across the two-tone image of a woman's face. For anyone who is just starting a collection, a first edition of The Liquidator can be a fantastic place to begin. First editions, and even those that are signed by the author, tend to sell for a relatively affordable price.
If you're interested in more than one of the Boysie Oakes novels, you might consider a first edition of Understrike (1965), the second book in the series, or A Killer for a Song (1975), the final Boysie Oakes book.
Professor Moriarty: Revisiting a Classic Character
The next text in your new collection must be one of Gardner's Professor Moriarty novels. While you have three to choose from as you build the framework of your collection, we recommend the first novel in the series: The Return of Moriarty (1974). The first edition was published in the U.K. by Weidenfeld and Nicolson, with the first U.S. edition following shortly thereafter by G.P. Putnam. Like Gardner's other early novels, his Professor Moriarty books are a great place to begin for anyone who is new to book collecting. Even with an intact dust jacket, a first edition is affordable for a collector who is just starting out.
What's so exciting about the Professor Moriarty books? The first two in the series, The Return of Moriarty (1974) and The Revenge of Moriarty (1975), give readers access to an entirely different point-of-view than Sir Arthur Conan Doyle's novels. Taking the trope of the anti-hero in new directions, Gardner creates novels that give readers access, for the first time, to the mind and ideas of the villain who serves as Sherlock Holmes's nemesis. While Gardner wrote a third novel about Professor Moriarty, it wasn't published during his lifetime. Instead, it appeared posthumously with the simple title Moriarty (2008).
Now is a particularly exciting time to revisit Gardner's Moriarty novels given the success of the BBC series Sherlock starring Benedict Cumberbatch as Sherlock, Martin Freeman as Watson, and Andrew Scott as Moriarty.
Moving Onto James Bond: Renewing 007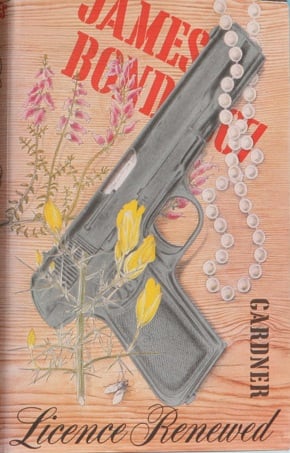 The gem of any new Gardner collection will be a first edition of one of Gardner's James Bond novels. As we mentioned previously, Gardner wrote a total of sixteen novels with his renewed version of the character of James Bond. Building on Ian Fleming's legacy, Gardner produced some of the most iconic recent narratives of the James Bond character.
Which novels should you seek out for your collection? Each of Gardner's James Bond books are collectable, so we'll recommend a couple of our favorites. First, you might consider the first book that features Gardner's Bond, License Renewed (1981). London's Cape & Hodder & Stoughton published the first edition of the novel, and you may even be able to locate a copy that has been signed by the author. We also recommend seeking out Cold (1986), the last of Gardner's novels featuring James Bond but also one of the scarcest first editions to locate. It was published in the U.K. with the title Cold, but appeared in the U.S. retitled as Cold Fall the same year.
If you're interested in starting a John Gardner collection, there are many ways to begin. We've recommended a handful of Gardner's books to get you started, but we invite you to explore more of his fiction and its place in the contemporary history of literature and cinema.