Percy Shelley is considered one of the greatest and most influential English poets. Like many authors, Shelley did not live to see his fame. During his life, he kept good company with other writers and poets, including his wife Mary Shelley née Godwin, author of Frankenstein, the Lord Byron, and John Keats. Due to the radical themes in his work, Shelley had difficulty finding a publisher, but he is now considered one of the paragons of English Romanticism.
Here are ten beautiful quotes from the legendary writer.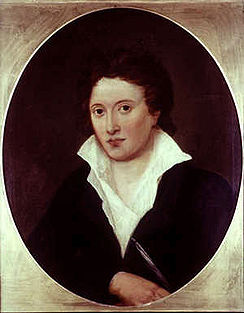 "If winter comes, can spring be far behind?" – "Ode to the West Wind"
"A poet is a nightingale, who sits in darkness and sings to cheer its own solitude with sweet sounds; his auditors are as men entranced by the melody of an unseen musician, who feel that they are moved and softened, yet know not whence or why." – "A Defense of Poetry"
"We look before and after,
And pine for what is not;
Our sincerest laughter
With some pain is fraught;
Our sweetest songs are those that tell
Of saddest thought." – "To a Skylark"
"Rise like Lions after slumber
In unvanquishable number-
Shake your chains to earth like dew
Which in sleep had Fallen on you
Ye are many-they are few." – The Mask of Anarchy
"The more we study, the more we discover our ignorance." – The Revolt of Islam
"No more let life divide what death can join together." – Adonais
"A man, to be greatly good, must imagine intensely and comprehensively; he must put himself in the place of another and many others; the pains and pleasures of his species must become his own. The great instrument of moral good is the imagination." – "A Defense of Poetry"
"Poets and philosophers are the unacknowledged legislators of the world." – A Philosophical View of Reform
"Fear not for the future, weep not for the past" – Queen Mab
"Joy, once lost, is pain" – Hellas
Interested in reading more about Percy Shelley and friends? Check out the following article:
In 1814, a relationship that would one day produce immortal art was only producing a scandal. The journey to some of the 19th century's best Romantic poetry and the gothic genius of Frankenstein was going to be, in hindsight, a bumpy one. It was a relationship so taboo that it began in secret, and had to be nurtured in exile.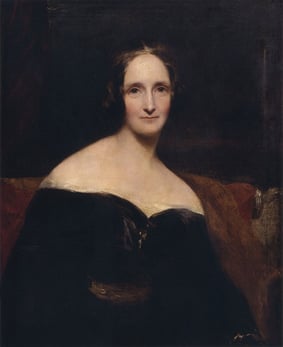 Mary Wollstonecraft Godwin had grown up under the guidance and tutelage of her parents, the feminist writer Mary Wollstonecraft and the radical political philosopher William Godwin. She was only 16 when a married 21-year-old aristocrat came to her door. His arrival would change both of their lives.
Percy Shelley had already created a rift in his own family. His worldview had been swayed by the likes of William Godwin, who believed in the ultimate injustice of the British system, dedicating much ink in support of anarchy. Contrary to his parents' wishes, Percy was not interested in the duties and business of maintaining a life of landed aristocracy, and leaned toward spending vast sums of money on projects for the disadvantaged.
Percy Shelley was in dubious standing at Oxford. He alienated those in his family and class with his radical sympathies and writings, and he grew estranged from his wife, Harriet. He soon was to disappoint Godwin, whom he had promised to give money to alleviate debts, when he said it was either no longer possible, or no longer worthwhile.
During his visits, Percy had already struck a mutual affection with the young Mary, and the pair began meeting in secret trysts at the grave of Mary's mother, Mary Wollstonecraft, in the St. Pancras church in London. The twain fell in love, defying William Godwin's wishes. Even greater, they shocked high society when Percy, Mary, and Mary's stepsister Claire Clairmont went to France on July 28, 1814, on a whim of love and recklessness.
Mary and Percy left for France, and traveled through the country and through Switzerland when eventually the already cash-strapped and indebted Percy Shelley ran out of funds. They returned in September, and incited scandal and gossip yet again: Mary was pregnant.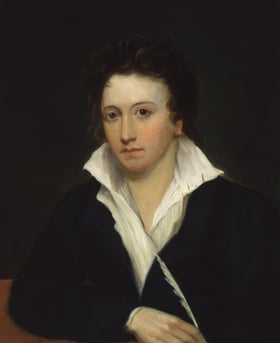 Mary, for her part, returned to the total rejection of her father, who wanted nothing to do with her. She and Percy moved into lodgings in London and kept preoccupied with reading, writing, and entertaining friends like Thomas Love Peacock and Thomas Jefferson Hogg. It is possible that in the spirit of free love Percy suggested a sexual relationship between Hogg and Mary, and they may have done so, but historians tend to believe they left it at a tender friendship. It is likely, too, that Percy developed a romance with stepsister Claire, and surely these arrangements, on top of the familial outrage, Percy's marriage, pregnancy, debt, and recklessness, added to the fires of gossip and intrigue. Read more >>