Sherman Alexie has been a prolific writer of fiction and poetry for more than twenty years. His works have won numerous awards and have been translated for non-English speaking readers across the world. You may know him as a famous Native American author, but what else should you know about Sherman Alexie? In addition to the fact that he has recently published works of both fiction and poetry (don't miss Blasphemy or What I've Stolen, What I've Earned), here are some more facts you may not have known about Sherman Alexie.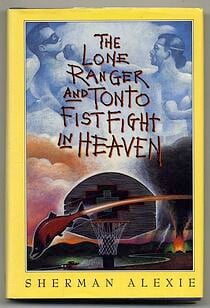 1. Sherman Alexie has published two dozen books, and he's writing regularly. His most famous work of short stories might be The Lone Ranger and Tonto Fistfight in Heaven (1993), closely followed up by his young-adult novel The Absolutely True Diary of a Part-Time Indian (2007). The latter won the National Book Award. Some of his notable works of poetry include The Business of Fancydancing (1992) and The Summer of Black Widows (1996).
2. Alexie grew up on the Spokane Indian reservation and is a Spokane/Coeur d'Alene Indian, yet his works aren't simply about life on the reservation. Indeed, he has been navigating borderlands since his earliest books of poetry and fiction. His writing suggests that we need to think in more nuanced ways about the relationship between the reservation itself and the notion of being "off the reservation." As Alexie explained in a recent interview in The Daily Beast, there's a "myth that Native Americans are mostly reservation-based, that that's the focus of our community." Yet, as he clarifies, "about 70 percent of us live off the reservation," and "there's a lot of movement between the reservation and off-reservation communities."
3. He currently lives in Seattle.
4. Alexie has written about alcoholism and Native American life both on and off the reservation, but he attributes his productivity to his own sobriety. He has said that, while drinking in college, he'd wake up and not remember what he had written. However, after years of being sober, alcohol has factored less and less into the content of his narratives.
5. An article in The New Yorker described him as "the future of American fiction."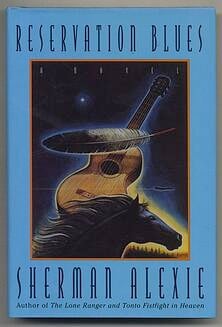 6. He has won numerous awards for his work. In addition to the winning the National Book Award for Young People's Literature, he has also won the PEN/Faulkner Award for Fiction, the PEN/Malamud Award for Short Fiction, and a PEN/Hemingway Citation for Best First Fiction.
7. Alexie has navigated the world of cinema and indie film making. Smoke Signals (1998), a film based on his short story collection The Lone Ranger and Tonto Fistfight in Heaven (1993), screened at Sundance and numerous other film festivals to much critical acclaim. He recently served as associate producer on the 2014 film Winter in the Blood, an adaptation of James Welch's 1974 novel of the same title.
8. He thinks about imperialism and postcoloniality both outside America and inside it. Alexie distinguishes clearly between American writers who aren't Indians but write about Indians, and indigenous authors who write about Indians. In an interview for the Iowa Review, he explained that several of these works of fiction, in fact, make up another component of colonial literature. Similar to novels that have come out of South Africa or the Indian subcontinent, American novels about Indians (but not written by Indians) "are books by members of the privileged, of the powerful, writing about the culture that has been colonized."
9. Humor plays a big role in the way Alexie deals with serious issues in his work, and it's okay for you to laugh.
10. Alexie has a pretty major presence on social media and in the digital humanities. For instance, he's active on Twitter (@Sherman_Alexie), and he does a podcast with Jess Walter entitled "A Tiny Sense of Accomplishment."