First published in 1855, Walt Whitman's Leaves of Grass was a continuous labor. Whitman spent much of his professional career creating and changing his work, resulting in vastly altered editions being printed. Included in Leaves of Grass, "Song of Myself" is written in Whitman's usual free verse and simple language, appealing to a vast audience. Like the work as a whole, "Song of Myself" underwent many revisions throughout the years before becoming the poem now considered one of the most influential pieces of American poetry.
1. "Do I contradict myself?
Very well, then, I contradict myself,
(I am large, I contain multitudes.)"
2. "Not I, not anyone else can travel that road for you.
You must travel it by yourself.
It is not far. It is within reach.
Perhaps you have been on it since you were born and did not know,
Perhaps it is everywhere on water and on land."
3. "I exist as I am, that is enough,
If no other in the world be aware I sit content,
And if each and all be aware I sit content.
One world is aware, and by the far the largest to me, and that is myself,
And whether I come to my own to-day or in ten thousand or ten million years,
I can cheerfully take it now, or with equal cheerfulness, I can wait."
4. "I discover myself on the verge of a usual mistake."
5. "I too am not a bit tamed, I too am untranslatable,
I sound my barbaric yawp over the roofs of the world."
6. "You shall no longer take things at second or third hand, nor look through the eyes of the dead, nor
feed on the spectres in books,
You shall not look through my eyes either, nor take things from me,
You shall listen to all sides and filter them from yourself."
7. "And as to you Life, I reckon you are the leavings of many deaths,
(No doubt I have died myself ten thousand times before.)"
8. "And as to you death, and you bitter hug of mortality, it is idle to try to alarm me."
9. "I depart as air, I shake my white locks at the runway sun,
I will effuse my flesh in eddies, and drift it in lacy jags."
10. "What blurt is this about virtue and about vice?
Evil propels me and reform of evil propels me, I stand indifferent,
My gait is no fault-finder's or rejecter's gait,
I moisten the roots of all that has grown."
Interested in learning more about Walt Whitman and Leaves of Grass? Read on!
Walt Whitman is generally considered, along with Emily Dickinson, to be one of the most important American Poets. His most famous work, Leaves of Grass (1855), which was conceived of as a sort of American epic in the tradition of Homer and Dante, remains one of the most well-known, well-loved, and enduring works of poetry in the canon. Here are nine interesting facts about Whitman and his magnum opus.
1. He Didn't Believe That Shakespeare Wrote His Plays

Questions about Shakespeare authorship have circulated for hundreds of years and will no doubt continue to do so for some time, but that doesn't make Whitman's views any less ironic. Despite having left school at age 11 only to go on to become one of the nation's greatest poets, Whitman didn't believe that an uneducated Englishman of non-noble birth could have created such estimable plays.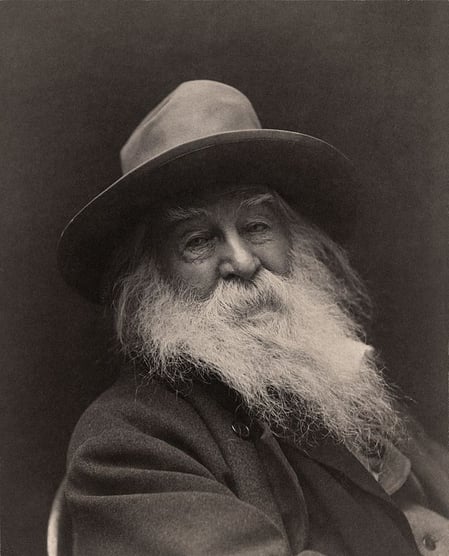 2. 'Leaves of Grass' Doesn't Mean What You Think
While for many the title is so strongly associated with the work that it's hard to think about the words themselves at all, Leaves of Grass is actually an artifact of Whitman's self-deprecating word play. 'Leaves' referred to sheets of paper in a book. 'Grass' was used to denote things that weren't of much value. Thus, Leaves of Grass was intended to mean, more or less, "Pages of Crap."
3. The First Edition of 'Leaves of Grass' Was Only 12 Poems
Another easy misconception about Whitman's most enduring work lies in thinking that the thick tome we call Leaves of Grass today was what was released upon the volume's initial publication. In fact, the first edition (seen here) contained only 12 poems, but its success (due in part to the praise of earlier transcendentalist Ralph Waldo Emerson) led Whitman to continue adding poems to each of many new editions until the final count of his 'deathbed edition' reached over 400.
4. Leaves of Grass Also Provoked Quite a Scandal
Because of its frank use of sexual imagery, Whitman's book was almost abandoned by its publisher. When it was released, many considered it to be obscene, which led, on more than one occasion, to Whitman being denied or fired from the other jobs he worked to support his poetry.
5. He Wrote a Temperance Novel
During the temperance movement of the 19th century, it was apparently not uncommon for novels to be printed with explicit themes of temperance as their raison-d'etre. One such novel was forthcoming from Whitman. Franklin Evans (1842) followed the title character's attempt to give up drinking, and would ultimately be a source of moderate embarrassment for the esteemed poet.