Gore Vidal saw himself as the last of a dying breed. Referring often to society's ineptitude, he believed he was part of a culture in decline. He had an attitude fit to rule as well, and admitted that if he hadn't lived in Rome for so much of his life, he would have continued seeking office in the United States (Vidal ran for Congress twice, but lost both times). While he never became an elected official, his political interest and upbringing forever informed his life as a writer and intellectual.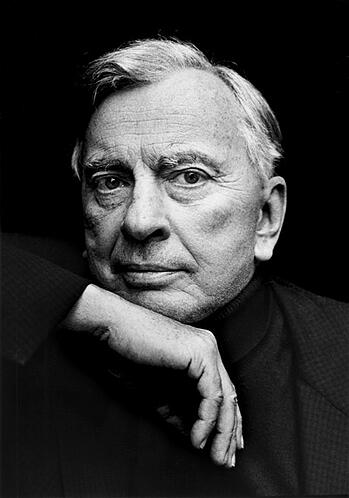 Writing, like reading, became a significant component of Vidal's early life. Reading was a necessity, as his blind grandfather - a Senator of Oklahoma - required young Vidal to read constitutional law and the Congressional Record aloud. He began writing his first novel at age 7, based on a detective movie he enjoyed at the time. This novel, like another half dozen in his youth, was never finished.
His first published work was a war novel entitled Williwaw, written at age 19 during his military service in the 1940s. But it was his second novel, The City and the Pillar, that launched him to fame - and controversy. Published in 1946, it was notorious for its plain and sympathetic depiction of homosexuality. Its protagonist did not die tragically, as was tradition. Indeed, the protagonist was a masculine, fully-formed character, and failed to satisfy the stereotypes that many readers had grown to expect. Some critics could not get past the novel's "immorality" to evaluate it as a work of art. Certain publications blacklisted Vidal and refused to review his subsequent work. All the commotion provoked Vidal to write a trilogy of potboilers under the pseudonym Edgar Box in order to separate his work from his public persona.
This is not to imply that Vidal shied away from public debate. Many times, in print and on television, Vidal insisted that all humans were born pansexual. He fought against a culture that wanted to call him gay or bisexual, or assign any other label. Vidal, pleased by his defiance, nonetheless believed that his sexuality was the reason he failed to gain respect from the literary community. In his typically bold fashion, Vidal also attributed the hostility of his critics to sheer envy. Vidal claimed that his own talents in fiction and essay writing spurred resentment from his reviewers, who would rather discredit their superior than praise him. The critic Harold Bloom rejected Vidal's assumptions, and claimed the source of the writer's neglect by the literary establishment was a result of his unfashionable genre – historical fiction.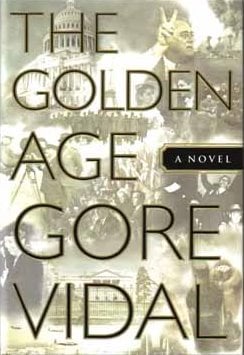 While Vidal's genre may have disinterested critics, it gained him a wide readership. His most beloved works are his historical novels, which bring to life both obscure and renowned moments of history. The first novel in his Narratives of Empire heptalogy, Burr (1973), not only characterizes figures of textbook lore, it challenges widely-accepted interpretations of history. George Washington is depicted as a fledgling military commander who lost most of his battles. Thomas Jefferson is a hypocrite who bribed witnesses to defame his rival, Aaron Burr, whom he narrowly beat in the election of 1800.
Vidal, audacious like always, used his historical novels both to tell a story and to remind the reader that her conception of history may be faulty. Take The Golden Age (2000), the final novel in his series about American imperialism. The action begins on the advent of the Second World War in 1939, and follows President Roosevelt's campaign claim that America will avoid the war unless attacked. Throughout the novel, Vidal argues that FDR kept his promise, but insidiously. The President and his administration, with the help of trade embargoes and cracked military communications, knew about the Japanese attack on Pearl Harbor beforehand, but withheld their intelligence in order to have a pretense for war. While the boldness of Vidal's claim borders on conspiracy theory, under the aegis of historical fiction, the idea becomes plausible.
With his penchant for argument, Vidal was a formidable essayist. On occasion, he would spend as much time on an essay for the New York Review of Books as he would writing a play for television. Many believed his essays were superior to his novels but Vidal asserted his novels were as good as his essays. He maintained that essays were short and people read them while novels were long and minimally read.
Lamenting America's dwindling readership, as well as its general cultural regression, was a favorite pastime of Vidal. He criticized literature's new generation of university-bred writers, "U-writers," as he called them, who created books too difficult to read and enjoy. According to Vidal, these writers, in their dissatisfaction with conventional character, plot, and prose, alienated the few remaining novel readers. He found it baffling how the university had insisted on disrupting the direct connection between reader and writer, making reading a duty rather than a voluntary pleasure. The trend not only corrupted readers, but writers as well, who began to produce books meant to be taught, not to be read.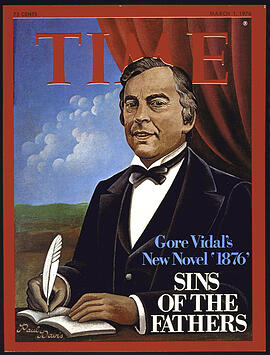 He always expressed his political views readily. Vidal was an adamant opponent of the Vietnam War, and debated the matter publicly. He also sought exposure for what he perceived as unpleasant lies at work in American politics. Only one party exists in the U.S., and that's the Property Party, he said, and any differences, Republican or Democrat, are negligible.
Vidal waged frequent wars with the pen, but also enjoyed interviews and television appearances. He was famous for his public feuds with Truman Capote and Norman Mailer. Unsurprisingly, he most often quarreled with writers who, like him, were most desirous of public attention. One bitter episode of The Dick Cavett Show saw Vidal and Mailer engage in an odd battle of wits on air, from which, by most accounts, Vidal emerged champion. In another encounter, Mailer punched Vidal at a dinner party after reading Vidal's review of his book. As legend has it, Vidal, quipped, "I see words fail Norman Mailer, yet again."
The bold Gore Vidal, while almost always controversial, has earned credit as a type of writer practically nonexistent today. Beyond his writing, he was a public intellectual, and lent his articulate ideas to whichever medium could best amplify his voice. He never backed down from a battle over his work and his opinions. While Vidal as a personality may not be to everyone's tastes, he has emerged as an enduring literary presence whose works continue to be sought by readers and collectors alike.