In retrospect, 1866 was a watershed year for Samuel Langhorne Clemens. He gained a cult following for his Hawaii travelogue (then referred to as the "Sandwich Islands"), published his first piece in a national magazine, and--finding "Thomas Jefferson Snodgrass" to be an unsuitable moniker--chose a new pen name: Mark Twain. "Forty-three Days in An Open Boat," published in Harper's New Monthly Magazine in December of 1866, was the first of his works published on a national scale.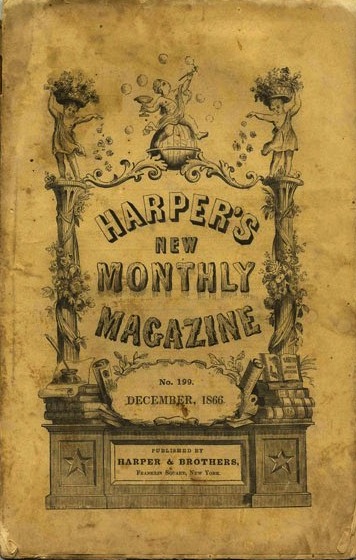 Twain, eventually regarded as one of the nation's greatest satirists, was named the "father of American literature" by William Faulkner. With "Forty-three Days in An Open Boat," Twain transcended the limitations of small, local presses, and gave national audiences their first glimpse into the forthcoming corpus of a major American writer. The story presents an account--comprised of a captain's log, several crew-member journals, and some editorializing comments by Twain--of the clipper ship Hornet. The Hornet caught fire sailing from New York to San Francisco and scattered its crew amid three small life boats with a mere ten days' worth of provisions. While the most harrowing descriptions found in the piece don't come from Twain's pen, he handles his role with an easy grace and a sense of authority. This authority is undercut only slightly by the fact that the then-obscure author's by-line read 'Mark Swain.'
While it would no doubt be folly to portray Twain's early article as a landmark of his oeuvre, the piece lends insight into his development as a writer and a thinker. For instance, Twain characterizes the stroke of luck that enabled the sailors to make land on the morning of their 43rd day as being "an eloquent witness of the watchful presence of an all-powerful providence." This description adds a compelling data point for tracing the author's fraught relationship with religion. It prompts us to wonder whether, based on his later-in-life insistence that "faith is believing what you know ain't so," we ought to believe that the man had grown into atheism after a period of belief, or whether the acclaimed satirist's comments are underpinned by an overarching deist philosophy.
Perhaps more importantly, Twain's commentary on the crew's journals includes an aside about his refusal to let the writers "doctor" their accounts. While his decision had, on the one hand, the effect of maintaining the poetic purity of the narrative, it also led to the inclusion of a mutiny-plot concocted by some of the eventual survivors. That Twain included this material against the wishes of the would-be mutineers speaks volumes about the fundamental commitment to the truth that underlies works like The Adventures of Tom Sawyer (1876) and Adventures of Huckleberry Finn (1884). If "Forty-three days in An Open Boat" tells us anything about Mark Twain's legacy, it's that the connecting thread between his satire, journalism, and borderline science-fiction (as in A Connecticut Yankee in King Arthur's Court (1889)) is the legendary author's unrelenting commitment to portraying all aspects of society, even the least flattering.