What did a handful of writers, artists, critics, and an economist have in common at the beginning of the 20th century? Living in a similar area of London, certainly. But it was a shared vision of life in all its creative, aesthetic, and intellectual glory that drew the Bloomsbury Group together.
The collective influence of the Bloomsbury Group in the artistic and literary communities of the era should not be downplayed. Despite an oft-changing membership list and much political upheaval in the world around them, the group existed over several decades and still casts its shadow on us today.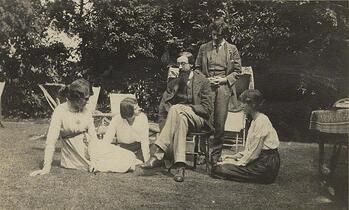 Although historians disagree on who was part of the "in crowd" and who was not (there was never an official list), sources agree that among the founding individuals were Clive Bell, Vanessa Bell, Roger Fry, Duncan Grant, Virginia Woolf, Leonard Woolf, E.M. Forster, John Maynard Keynes (the lone economist), and Lytton Strachey. Several of the men were educated together at Cambridge where they met Thoby Stephen and his siblings: Adrian, Vanessa (later Bell), and Virginia (later Woolf). The Stephens began to host regular but informal gatherings at their residence in the Bloomsbury neighborhood of London. These "Friday Club" and "Thursday Evening" meetings were the soil out of which the Bloomsbury Group grew. Thoby's early death in 1906 brought the group of friends closer together and spurred them onward.
More than anything, the members of the Bloomsbury Group were united in a shared philosophy which was heavily influenced by British philosopher G.E. Moore. In practice, this philosophy was the basis for a rejection of the bourgeois ideals of their parents' generation, including a challenge to the society standard of monogamous and heterosexual relationships. Members found in one another a mutual desire to lead lives of beauty and creativity.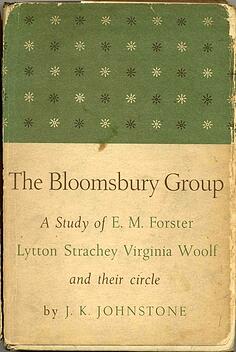 It's worth noting that when they began meeting, virtually none of the Bloomsberries had seen the career success that would mark their later lives. The group and its members flourished in the 1910s and '20s, though World War I caused a shift in how the group operated. Before the war, artist Roger Fry curated two extremely influential exhibitions that awakened England to the post-Impressionist movement in Europe. Virginia Woolf began gaining attention in literary circles and in the suffragette movement. John Maynard Keynes's criticism of the Versailles Peace Treaty garnered global respect. And throughout everything, the love affairs came and went amongst the Bloomsbury Group, causing no little scandal.
During the 1930s, whatever cohesion that was left between the original Bloomsberries was damaged by repeated tragedy. Lytton Strachey died, followed by Roger Fry in 1934. Vanessa and Clive Bell's son was killed during the Spanish Civil War in 1937, and Virginia Woolf committed suicide in 1941 after suffering from depression for many years. The Bloomsbury Group had seen great influence in the early 20th century, but it became time for others to take up the banner.