When Ian Fleming retreated to his Jamaican home nicknamed Goldeneye to decompress just prior to his wedding, nobody—including Fleming himself—had any idea this brief holiday in the sun would be the beginning of one of the most beloved spy novel and movie franchises the world over.
While not quite a lark—Fleming had discussed with friends his desire to someday write a spy novel based in some sense on his own experiences as an intelligence officer during World War II—Fleming's ascension from unknown, aspiring author to the heights of the spy novel genre seems almost as fanciful and outlandish as the exploits of his protagonist, British spy James Bond.
During his career, Fleming authored 12 Bond novels and two short story collections, and since Fleming's death in 1964, eight other authors have taken up the mantle and continued the Bond series. Over the next few months, we're going to explore each of Fleming's Bond novels, everything from the plot and characters, the story behind the story, and the finer points of collecting these highly-sought after books.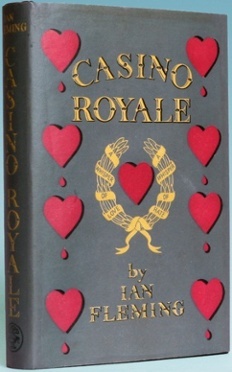 Today we start with Casino Royale, Fleming's debut Bond novel and one that launched the international Bond craze and vaulted the character into the stratosphere of popular culture.
The Mission
Casino Royale introduces us to the world of British OO agent James Bond via a high-stakes bout of gambling and intrigue at the Royale-les-Eaux casino in northern France. Bond is dispatched to the casino by 'M,' head of Mi6 and British Secret Service, to engage and monitor Le Chiffre, the paymaster of SMERSH, an international crime syndicate.
Bond's mission is to bankrupt Le Chiffre at the baccarat table and prevent him from racking up a war chest of winnings which 'M' believes will then be funneled back into SMERSH. Bond, who is undercover as a Jamaican playboy, is accompanied by Vesper Lynd, an agent working in conjunction with Mi6.
An intense game of baccarat ensures with Bond and Le Chiffre engaging in a grudge match of mind games as much as cards. While Le Chiffre initially cleans Bond out in the first round, an influx of cash from CIA operative and friend Felix Leiter allows Bond to reenter the game and take Le Chiffre for more than 80 million Francs, ultimately bankrupting him and disrupting his scheme to fund SMERSH.
Le Chiffre responds by kidnapping Vesper and a perilous, suspenseful cat-and-mouse chase ensues where Le Chiffre captures Bond and brutally tortures him in the hopes of getting his money back. But Le Chiffre's past with SMERSH and his previous failings finally catch up with him, and he's assassinated by a SMERSH agent before Bond gives up his winnings.
Bond and Lynd's ostensibly professional relationship at the beginning of the novel take a romantic turn as the story unfolds, and the two retreat to an island getaway after Bond completes a medical recovery. Lynd, who has unwillingly been working as a double agent for the Russian Ministry of Internal Affairs, commits suicide after discovering she's being tracked by a SMERSH agent. Bond also learns after her death she was assigned to sabotage Bond's mission, including faking her own kidnapping.
FAQ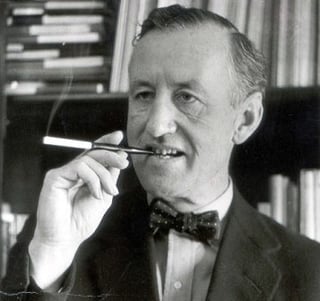 Fleming began writing Casino Royale in early 1952 and completed a draft of the book in March of that year. Inspired in part by Fleming's own career working in British intelligence during World War II—several of the novel's main characters, including 'M,' are said to be drawn from actual intelligence officers Bond worked under—Fleming is quoted as saying he wanted Bond to be an ordinary, boring man caught up in very unordinary circumstances, and in fact Fleming took the name James Bond from a real-life ornithologist and author of Birds of the West Indies—Fleming has said in interviews the name was just dull enough to fit his idea of the character.
Fleming devised a rigorous writing regiment during the initial drafting of the novel. He forced himself to write at least 2,000 words per day in two writing sessions, one in the morning and one in the evening. Little edits or rewrites were done to each's day work and it's well-known Fleming did not reread a session's worth of work before continuing on.
Casino Royale was released in April 1953 in the U.K. by publisher Jonathan Cape to rave reviews and brisk sales. The first printing of the novel consisted of about 4,000 copies and the novel sold through its first printing in less than one month. Second and third printings were ordered and Cape signed Fleming to a three-book deal. Though many of these first edition copies were sent to libraries across England, a 1955 paperback release of the novel sold more than 41,000 copies in one year.
Field Notes
Deciphering the collecting points for Fleming's Casino Royale can be just as complicated and treacherous as one of Bond's missions. Because so many copies of the novel's first printing were distributed to libraries, pristine copies can be hard to come by and these library-issued copies are much less valuable than others from the original first edition—in addition, collectors should be watchful of the attempted removal of library stamps or other altering to the original work in an effort to 'restore' library copies.
Original first U.K. editions were printed in hardback with an ashen gray dust jacket complete with faded, golden printing for the title and Fleming's name. Small, bright red hearts flank both sides of the title and author's name, and the same golden lettering is used for the spine of the novel as well.
First editions of Casino Royale should prominently display the publisher's—Jonathan Cape's—name on the front and back title page, and collector should note that copies with blurbs or quotes from The Sunday Times on these pages are second or third printings.
But the sheer feat of acquiring a first edition of Casino Royale should not be understated. It is arguably one of the most highly-collectible Bond novels, and copies in good condition can range in value from $10,000 to $100,000, not including special inscriptions or other markings.
The Bond Dossier will return with Live and Let Die…