The saying goes that an artist has his or her entire life to create their first major work, but only a few years to finish their second. It's an adage often used to rationalize a drop-off in quality or ambition between an artist's first two major pieces, which is an all too common occurrence. But Ian Fleming is perhaps the shining exception to this rule.
Fleming's second James Bond novel, Live and Let Die, was published April 5, 1954 and was completed just a few months before the release of the debut Bond novel, Casino Royale—in fact, some Bond scholars contend portions of Live and Let Die were actually composed before Casino Royale was written. Live and Let Die defied the expectations of diminishing returns in following up such a massive success with great critical acclaim in both the U.K. and U.S., coupled with brisk sales in Great Britain and throughout Europe.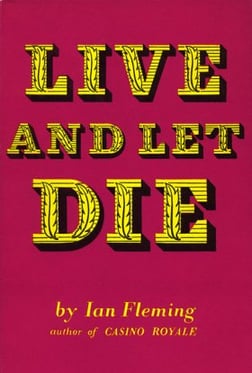 Like its predecessor, Live and Let Die was composed entirely at Fleming's Goldeneye estate in Jamaica where Fleming utilized a very similar writing process to that of Casino Royale—a few hours in the morning followed by an hour or two in the evening with very little editing along the way. But while much of the context surrounding both novels was similar, Fleming's second Bond adventure grows and veers from the path set by his debut, and the novel makes for a fascinating addition to the Bond series.

The Mission

Live and Let Die opens with M dispatching Bond to New York City to investigate and monitor Mr. Big, a SMERSH agent and underworld voodoo leader suspected of selling rare, 17th Century gold coins to help finance Soviet spy operations. Bond connects with CIA agent Felix Leiter after arriving in New York City and the two set about surveillance on Mr. Big at a series of nightclubs before being captured by Big's goons and held for interrogation.

In questioning Bond about his activities, Big enlists the help of Solitaire, a beautiful colleague with fortune-telling abilities who grills Bond about why he's following Big and his ties with potential governments as a spy. Bond and Leiter manage to escape the interrogation and intend on continuing to track Big to Florida, but not before Solitaire approaches Bond about joining forces in helping to take down Big.

The threesome arrives in Florida and are thrust into a cat-and-mouse chase with Big and his goons that quickly results in Solitaire being kidnapped and Leiter abducted and dropped into a shark tank where he receives brutal, life-threatening injuries. At this point, Bond—now completely on his own—follows Big further south to Jamaica where the two duke it out mano-a-mano in a high-stakes bout of deception and intrigue that sees Big's ultimate demise and Solitaire's rescue.

FAQ

Fleming intended to soften Bond's character some in his second novel in an effort to make 007 more likable and warm—a goal Fleming himself later said he was unsure as to whether he accomplished. As he did in Casino Royale, Fleming drew heavily from his own life and military career for the characters and events of Live and Let Die, but he also culled from his personal travels to and from Jamaica as source material.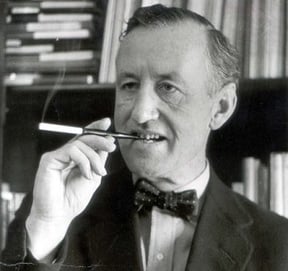 A major tonal shift was also in Fleming's sights when he sat down to compose the novel. Fleming intended for Live and Let Die to be more serious in tone, less playful, and concerned with exploring somewhat darker territory—in fact, the novel's original title was The Undertaker's Wind, and Fleming conceived the project as a meditation on the nature of good and evil.

Another dramatic movement away from the concerns raised in Casino Royale is the introduction of the increasing tensions between the U.K., U.S., and the Soviet Union. While SMERSH certainly plays a large role in the plot of Fleming's first novel, many Bond scholars contend the second 007 adventure thrusts the geopolitical concerns of the 1950s into the limelight, and is one of the first early Bond novels to reflect the shifting roles of the world's three superpowers.

Field Notes

As with Live and Let Die's predecessor, collecting copies of the novel can be a daunting task filled with plot holes. While more copies of Fleming's second novel were printed—about 7,500 first printings, followed by another 2,000 or so before a massive paperback release after that initial 1954 release—acquiring a pristine first or even second printing can be difficult.

First editions feature black cloth and a purple dust jacket with bronze titles on the cover and spine—Fleming himself contributed largely to the overall cover design concept as he did a year or so prior with Casino Royale. A small, bronze decorative flourish adorns the spine along with the author's last name.

But perhaps the most pertinent collecting note about Live and Let Die is the appearance of an artist credit on the lower bottom back flap of the dust jacket. While some collectors or enthusiasts maintain the name of artist Kenneth Lewis is the sign of a first printing, the label only appears on that 2,000-run second printing of the novel. These second printings, while still valuable, garner much less in the rare book collecting market, and collectors should be aware of this very important distinction when seeking copies of Live and Let Die.

The Bond Dossier will return with Moonraker...