It's perhaps tragically ironic Ian Fleming's eleventh James Bond novel is titled You Only Live Twice. That irony stems from the fact it was the last Bond novel Fleming completed before his death in August 1964. While a handful of other Fleming-conceived novels were published after his death, You Only Live Twice was the final 007 story Fleming saw from start to finish. He passed away just five months after the novel's publication.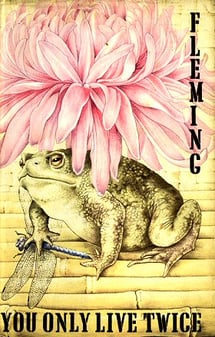 If an artist's work is a reflection of their internal landscape, there's much a reader can take away from You Only Live Twice. The novel is ripe with melancholy. We get a somewhat claustrophobic vibe as we shift from a man mourning the loss of his wife Tracy in the previous novel, On Her Majesty's Secret Service, to a man thirsting for revenge and hell bent on inflicting pain on those who have pained him. One of Fleming's faster compositions, the novel is a complex portrait of James Bond as he travels the world seeking to avenge his wife's death, while at the same time searching for answers to existential questions—who he is, what he is about, and why he continues to do what he does.
Another worthy entry into the 007 canon, You Only Live Twice finds Fleming—and Bond—searching for answers to some of life's greatest questions. Whether they find these answers is up to the reader, but it's safe to say the journey itself is well worth it.
The mission
The third and final entry in the Blofeld trilogy, You Only Live Twice opens with Bond mourning his wife's death by jet-setting around the world on a drinking and gambling binge. Near dismissal from MI6 for his behavior, M decides to give Bond one last assignment and dispatches him to a diplomatic branch of the organization where he is asked to convince the head of the Japanese intelligence service, Tiger Tanaka, to provide MI6 with radio transmissions from the Soviet Union. The men meet and instead of providing the transmissions, Tanaka asks Bond to kill Dr. Guntram Shatterhand, a man who operates The Garden of Death, a well-known location where people go to commit suicide.
Bond investigates Shatterhand, only to discover Shatterhand and his wife are actually Ernst Stavro Blofeld and his wife Irma Bunt, the two people responsible for the murder of Bond's wife. Bond goes undercover as a Japanese coal miner to observe Blofeld and The Garden of Death, only to be discovered by Bunt and held captive by Blofeld and his wife.
After surviving near execution, Bond exacts revenge on Blofeld in a duel by strangling him. Bond then destroys The Garden of Death and escapes, all the while suffering a head injury that leaves him an amnesiac living as a Japanese fisherman with Kissy Suzuki, a friend of Tanaka's. The rest of the world believes Bond to be dead—his obituary ran in newspapers following the destruction of The Garden of Death—as he recovers with Kissy before some time later fathering a child with her and beginning to regain his memory. The novel closes with Bond telling Kissy he feels compelled to travel to the Russian city of Vladivostok, as he believes the city might hold the key to his memory.
FAQ
Published in March 1964, You Only Live Twice was greeted with brisk sales—about 62,000 copies were pre-ordered in the U.K, a significant increase from around 40,000 pre-orders for Fleming's previous Bond novel. The novel was greeted positively by fans around the world, though critics gave the novel more mixed reviews, with some arguing Fleming had become too influenced by the popular film adaptations of his novels, lending his texts to a more cinematic rather than literary bend. In addition, some critics struggled to connect with the novel's melancholy tenor and somewhat lumbering plot.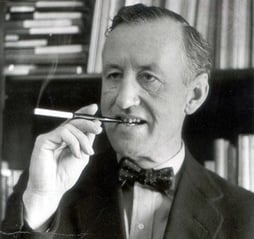 Composed primarily during January and February 1963 at Fleming's Goldeneye Estate, You Only Live Twice was Fleming's shortest manuscript at just 170 pages. The novel was also the least revised Fleming work with much of the first draft remaining in the actual published book. In fact, for reasons unknown, Fleming made a conscious effort to not revise as he composed, often completing passages without giving them a second read.
The cover art, which features a toad and prominently placed pink flower, was once again designed by Fleming's frequent artistic collaborator Richard Chopping, well-known British illustrator. Chopping's design concept was heavily influenced by Fleming, who insisted on the image of the toad as a critical thematic piece of the novel's message and tone.
Released in 1967, You Only Live Twice was the fifth Bond novel adapted for the big screen, though only a handful of elements from the novel were translated to film.
Field notes
As with all previous first editions of Fleming's Bond novels, the title page should consist of the publisher and the title—the back page should not contain anything but the publication year. In addition, no references to editorial or critical reviews should be present on either the front or back title pages. While U.K. first editions are indeed the most valuable—those in pristine condition can be valued as high as $25,000—early American editions can also be prized by Bond collectors.
While not necessarily the most rare of Fleming's Bond novels, the value of You Only Live Twice is certainly amplified by Fleming's death and the novel being the final 007 adventure to be published while the author was still alive. Subsequent Bond novels under Fleming's name were published after his death, though these were in large part unpolished manuscripts in first-draft form.
The Bond Dossier will return with The Man With the Golden Gun...