"We all have such personal associations with the books--inscribed or uninscribed--that we possess, and in this sense all copies of books are association copies."
-Thomas Tansell, Other People's Books

Tansell's words ring true with many a bibliophile. But some association copies are more valuable than others, especially in the rare book world. Association copies, books that were owned by authors themselves, someone close to authors, or by an otherwise notable individual, fascinate us because they tell stories beyond the ones printed on their pages.
The Value of Association Copies
The broad term "association copy" has become a bit of a catch-all term in recent years, one that can be broken down into a few different categories with a definite heirarchy of value:
Dedication copies are inscribed from the author to the book's dedicatee. Since most books are dedicated to only one person, or perhaps a few people, dedication copies are generally the rarest of association copies.
Association copies are, in the strictest sense, inscribed from the author to someone significant in the author's life, such as a friend or family member. The term is also used to describe books owned by someone significant, regardless of whether they've been inscribed by the author.
Presentation copies are inscribed by the author to someone who is not close to the author, or someone who is completely unknown to the author, such as one might encounter when an author does a book signing and personalizes the inscription to each adoring fan.
In some cases, with a little research, a book collector may discover that what at first appears to be a presentation copy is actually a previously undiscovered association copy. Moreover, you can turn the books in your own library into association copies if you build a significant enough collection over time or otherwise make yourself notable!
Book collectors may note wildly different prices on association copies. The proximity of the owner to the author, or the renown of the owner himself, are major factors in determining an association copy's value. And some authors produce a much larger number of presentation copies than others, so scarcity also comes into play as it does throughout the world of rare books.
The attitude toward presentation copies has become a bit contradictory in recent years. Regarding authors of classics, such as Hemingway and Twain, the prevailing opinion is that "the more writing by the author in the book, the better." Thus presentation copies, even to individuals who have long since sunk into complete obscurity, are prized.
Yet when it comes to modern first editions, the opposite often holds true; books that are simply signed are priced higher than presentation copies to unknown individuals. This can be confusing to new collectors. Our colleague Ken Lopez makes an interesting argument for a more consistent approach because, after all, we have no way of knowing who will be the next Steinbeck or Joyce!
Provenance also plays an important role with association copies. Provenance refers to a book's history of ownership, which often serves to authenticate it as an association copy. And in some cases, subsequent owners add their own "layers" of association, giving the book an even richer story. If you're considering the purchase of a particuarly pricy association copy, ask the dealer about the book's provenance!
A Few Famous Association Copies
Book collectors' interest in association copies is relatively new. It wasn't until after the late 1890's that bibliophiles started playing closer attention to a book's provenance. And it was only in the late 1920's that discourse on association copies showed up in print. But association copies have been telling their own stories for centuries!
Frida Kahlo's Poe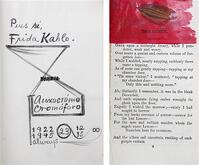 In 2011, Frida Kahlo's copy of Edgar Allan Poe sold at auction for $24,000. The copy was in terrible shape, having obviously been well read. So why was the price tag so high? The book was filled with Kahlo's artistic marginalia. Her one-of-a-kind doodles, collages, and notes vastly increased the book's value not only because of their uniqueness, but also because they provide insight into her creative process and elucidate Poe's influence on Kahlo as an artist.
For the Love of a Bibliographer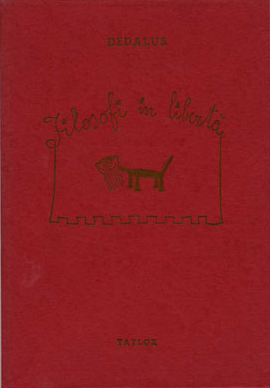 Umberto Eco has had a remarkably long and friendly relationship with his bibliographer, James Contursi. He's presented Contursi with a number of inscribed editions and advanced reading copies of his books. One of these is a charming limited edition of Eco's Filosofi In Libertà. Limited to 300 copies, this 1989 reprint of Eco's second book is number 50. Eco wrote the book under the pseudonym Dedalus, and it includes fifteen cartoons by the author.
The Betty Anderson Collection
Betty Lou Anderson, legendary designer art director at Albert A Knopf in the late twentieth century, has inspired countless designers. She was also a great bibliophile amassing a collection that included not only modern first editions, but also poetry, drama, biographies, and even broadsides. For many titles, Anderson had never-in-production proof dust jackets. We were fortunate to acquire a significant collection from her estate, which gives us wonderful insight into her own interests and inspirations.
An Unlikely Association
Oscar Wilde and George Bernard Shaw met at the home of Lady Jane Wilde in November 1879. Although they attempted pleasant interaction, they didn't exactly enjoy each other's company. That social incompatibility didn't staunch their mutual admiration, however, and the two kept up correspondence. After the 1893 publication of Lady Windermere's Fan, Wilde sent a copy to Shaw with the inscription "Op. 1 of the Hibernian School, London '93." The line was a joke, alluding to the fact that Wilde and Shaw were the first Irish playwrights to attain cultural significance in decades. Shaw would loyally defend Wilde from critics and detractors for the rest of his life, even putting together a petition for Wilde's release after the author was convicted of sodomy.
Thoreau and Whitman's Single Encounter
Henry David Thoreau and Walt Whitman met in person only once, in Brooklyn, 1856. The two poets exchanged books. Whitman presented Thoreau with a copy of Leaves of Grass, into which he'd scribbled a signature. Thoreau, on the other hand, had carefully inscribed a copy of A Week on the Concord, 1849 "H.D. Thoreau to Walt Whitman" on the flyleaf. Whitman would record the meeting in his journal, noting that "We had a two hours talk+walk--I liked him well--I thin he told me he was busy at a surveying job down on Staten Island. He was full of animation--seem'd in good health--look'd very well--WW." Two book collectors independently worked to hunt the two volumes down, and they were eventually reunited at the Library of Congress.
A Whale of an Association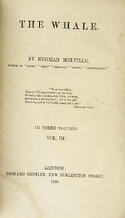 Herman Melville inscribed and presented a very small number of books. One of these was a copy of The Whale, which he inscribed to Richard Bentley in 1851. By this time, Bentley's London publishing firm was struggling, but he still managed to publish outstanding American literature--including Melville's Mardi: And a Voyage Thither (1849) and The Whale (1851), an expurgated three-volume version of Moby Dick republished as a single complete volume only a week after the initial publication. This second edition reversed gross errors Peter Bentley had made in the first run, most notably omitting the epilogue altogether. Bentley paid £150 for the first 1,000 copies and half profits thereafter.
Jane Austen Shares Her Inspiration
Jane Austen's love of poet William Cowper is well documented. Austen frequently alluded to Cowper in her novels. So it's no surprise that when she met her favorite niece Fanny, she would present the girl with Cowper. Austen inscribed the book simply: "Fanny Cath Austen/June 29, 1808/The Gift of her Aunt Jane." The contents of Austen's own library were quite varied; the Jane Austen Society of North America provides a glimpse into her reading during her Chawton years.
To read more about Association Copies, see:
Association Copies: Collecting Other People's Rare Books.