When it comes to quirky, strong female role models for children, Pippi Longstocking certainly makes the list. Swedish author, Astrid Lindgren, created this beloved character in 1944 when her nine year old daughter asked for a story while staying home from school with pneumonia. Despite its humble beginning, Lindgren's Pippi stories went on to tremendous success. They have been translated into 64 languages and adapted into many movies and television series.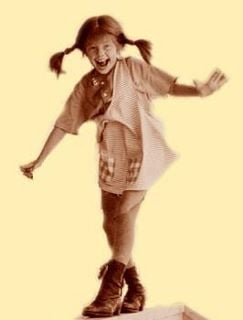 Pippi's full name is Pippilotta Delicatessa Windowshade Mackrelmint Ephraim's Daughter Longstocking. The books are set in a small Swedish village, where Pippi lives by herself with her pet monkey and horse. Her best friends, Tommy and Annika, live next door with their mother, Mrs. Settergren.
Pippi is a girl who does not fit into anybody's mold. Her hair is bright red and tied into two pigtails that stick up or to the side. She is not described as a typically "cute" girl, but her confidence never falters. She has superhuman strength, a forceful personality, and an intelligence that rivals most of the adults she encounters. When she is faced with cruelty or injustice, she refuses to stand for it.
Pippi's father is a sailor, and she acquired many of her quirks as well as her independence, from her time on board his ship. The novel series begins with Pippi settling in Villa Villekulla when her father is rumored to be lost at sea.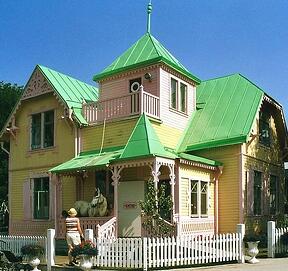 Although Pippi is very smart, she is not formally educated – a fact that sparks disapproval in Mrs. Settergren. Her lack of schooling and nontraditional upbringing causes Pippi to be humorously ignorant of social norms. As the series progresses, Pippi reunites with her father, but decides that Villa Villekulla is where she belongs.
Lindgren published her first Pippi Longstocking story in 1945. The first film adaptation was released shortly afterwards, in 1949, but Lindgren was unhappy with the results. A television series began in 1969, and this time Lindgren requested that she write the scripts herself. Pippi's story has since been retold as a cartoon. Then, in 1971, Hayao Miyazaki proposed an anime version of Pippi Longstocking, although the project was never completed.
Since the first novel hit the shelves, Pippi Longstocking has been one of those rare stories that appeals to adults and children alike. Sixty-eight years later, Pippi's popularity has not diminished. Some say that Pippi is a character created before her time. In the 1940s, some adults were put off by a female character demonstrating such strength and self-reliance. Today, these are exactly the qualities many parents encourage in their children – girls and boys alike.
Astrid Lindgren remains an important literary figure today and lives on in the three literary prizes awarded annually in her honor. The Astrid Lindgren Prize and The Society of Nine Literary Prize, valued at SEK 50,000 ($7,600 US) and SEK 125,000 ($19,000) respectively, are awarded to noteworthy children's authors on the occasion of her birthday every year. The Astrid Lindgren Memorial Award, offered at SEK 5 million ($765,000 USD), is the world's largest monetary prize for children's literature. Past winners include legendary author Philip Pullman, who earned the award for the His Dark Materials series.