When most people think about William F. Buckley, Jr., they don't think about Cold War spy novels or interviews with Beat poets and dramatists. Instead, they often think about Buckley's prominence in conservative politics. Yet he also made a name for himself when it came to fiction. We didn't just reference Cold War spy novels and Jack Kerouac—two seemingly incompatible topics—out of nowhere. In fact, although you might not suspect it, Buckley wrote eleven novels about espionage and even interviewed Allen Ginsberg, Norman Mailer, and Jack Kerouac on television. Are you intrigued? Let us tell you a little bit more about William F. Buckley, Jr.'s fame and fiction.
Firing Line in 1968: When William F. Buckley, Jr. Interviewed Writers on Television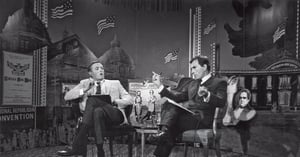 One thing you may know about Buckley is that he hosted the Public Broadcasting Service (PBS) television series Firing Line from 1966 to 1999—for more than 30 years! As the Hoover Institution explains of Firing Line, it was "a venue for debate and discussion on political, social, and philosophical issues with experts of the day." When the show began, Buckley hosted political figures like Barry Goldwater to discuss the "future of conservatism," and Richard Nixon to talk about the "future of the GOP." Yet he also hosted numerous cultural and literary figures. For example, in 1967, the famed film director Otto Preminger spoke with Buckley on Firing Line about the Hollywood production code and censorship. Groucho Marx even came on the show to talk about comedy.
But we're especially intrigued by the interviews Buckley did during the first few years of the program with prominent writers. Most notably, Buckley interviewed Allen Ginsberg, Norman Mailer, and Jack Kerouac.
Buckley and Ginsberg: A Mismatched Pair
When Allen Ginsberg appeared on The Firing Line—the first of the three writers we mentioned to make his way onto the program—he agreed to talk about "the avant-garde." Buckley began the show by inquiring of Ginsberg: "I should like to begin by asking Mr. Ginsberg whether he considers that the hippies are an intimation of the new order." Ginsberg responded as you might expect, following Buckley's question with another question posed more like a statement: "why don't I read a poem?" Ginsberg proceeded to read "Wales Visitation" (1967), a poem he had written at Tintern Abbey in Southeast Wales, the same location that led to Alfred Lord Tennyson's poem "Tears, Idle Tears" (1847) over a century prior, and before that, William Wordsworth's poem "Lines Composed a Few Miles Above Tintern Abbey" (1798).
How Buckley and Mailer Become Unlikely Acquaintances
Buckley hosted Ginsberg on Firing Line on May 7, 1968. Later that month, he hosted the novelist and playwright Norman Mailer on May 28, 1968. This wasn't the first time the two had appeared together in public. Indeed, in 1962, Buckley and Mailer debated one another on a sold-out stage. Although Buckley and Mailer placed themselves firmly on opposite sides of the political spectrum, Buckley frequently would mention his reverence for Mailer's literary language. According to an article in The New Yorker about the two "frenemies," Buckley once said of Mailer, "He's a genius and I'm not." When Norman Mailer died in 2007, Buckley underscored how Mailer, in his fiction, had "created the most beautiful metaphors in the language."
Jack Kerouac on the Firing Line Stage
The strangest of all three writers' appearances on Firing Line must be Jack Kerouac's visit to the program. The episode appeared on September 3, 1968. It was entitled, quite simply, "The Hippies." When Buckley asked Kerouac about hippies in San Francisco in the late 1960s, Kerouac replied, "they're better than the Beats," before narrating a distaste for poets like Lawrence Ferlinghetti who came after him in the Bay Area scene. In the video of the program, viewers can see Allen Ginsberg in the audience looking confusedly toward the stage as Jack Kerouac ceases talking about writing altogether and simply says, "I believe in order, tenderness, and piety."
Buckley attempted, without much success, to bring the conversation back to the interrelation of Beat poets and writers, and writers in the counter-culture movement of the 1960s.
Buckley Became a Fiction Writer, Too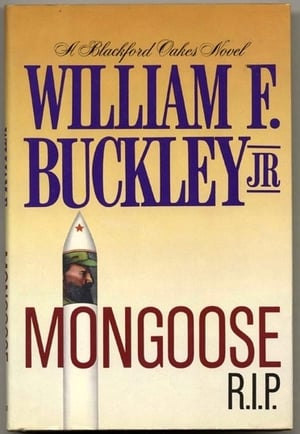 Buckley's connection to the world of fiction writers and poets ended up going far beyond those with whom he chatted on Firing Line. To be sure, between 1976 and 2005, Buckley wrote nearly a dozen Cold War spy novels featuring the protagonist Blackford Oakes. While Buckley wrote the first novel in the series, Saving the Queen (1976) in the mid-1970s, he set it in 1952 as Blackford Oakes gets recruited in the U.S. Central Intelligence Agency (CIA) and gets sent to Britain on assignment.
If you pick up a copy of Saving the Queen and find yourself eager to read more, we have a couple of recommendations. You might consider Marco Polo, if You Can (1982), the fourth novel in the series in which Blackford Oakes's plane gets shot down over the Soviet Union in 1960. A quick follow-up might be The Story of Henri Tod (1984), the fifth novel in the series, which finds Blackford Oakes in West Berlin in 1961. Despite continuing to write the novels well after the fall of the Soviet Union, even the last book in the series, Last Call for Blackford Oakes (2005), finds the CIA agent dealing with a British-Soviet double agent in 1987 as the Cold War is nearing its end.
While William F. Buckley's legacy might be one rooted deeply in conservative political commentary, his career also intertwined in fascinating ways with writers and works of fiction in the twentieth century. We recommend revisiting some of those episodes of Firing Line we mentioned and picking up one of his Cold War spy novels for an exciting weekend read.