William Joyce is the multi-talented writer, illustrator, and genius behind some of the most beloved and well known children's stories, films, and characters of the past half century. Joyce's imagination has served him well, and his trademark style must be the fantastical ideas he portrays all while pushing boundaries and asking "what if?".
In fact, Joyce's earliest effort at book making set the stage. In the fourth grade he wrote Billy's Booger wherein the main character's snot gains superpowers (Joyce has since published the original within a book of the same name). He described in an interview with Reading Rockets* the reaction he received to his first book: "The teachers got upset, and the principal got upset, but everyone in the class thought it was great… I managed to endear myself to all my classmates, but drive the grownups crazy… I liked that, so I've continued that tradition…"
Since Billy's Booger, Joyce has gone on to publish countless books, and most recently he re-published his first story, in its original fourth grade format, within an expanded book of the same title. Perhaps his most well-known book series is Rolie Polie Olie which was first published in 1999 and contains numerous titles. Rolie Polie Olie was the inspiration for the television series by the same name. To Joyce, "Rolie Polie Olie is a show made up entirely of "wouldn't it be cool if…I take that in Rolie Polie Olie and exaggerate it. They go to the ice cream planet. I mean, it's made entirely of ice cream! You go sledding on ice cream slopes and you can just reach down and eat whatever's there."
Another one of Joyce's renowned children's book series, The Guardians of Childhood was turned into the 2012 movie, Rise of the Guardian. Joyce served as both the writer and executive producer for the film. He was behind the concepts and art design for favorite films like Toy Story (1995) and A Bug's Life (1998), and he also produced Robots (2005), among others.
In 2012 Joyce won an Oscar for best animated short film, The Fantastic Flying Books of Mr. Morris Lessmore. The short film is an ode to literature and the power it has to change our lives. It's a beautiful and moving film that will leave you in joyous tears at the end.
Beyond books, shows, and films, Joyce's illustrations have graced the cover of The New Yorker, and recently, he sold some prints of an unpublished Mardi Gras cover to help fund the Katrinarita Gras Foundation which sponsors artists and art organizations in Louisiana hardest hit by Hurricanes Katrina and Rita.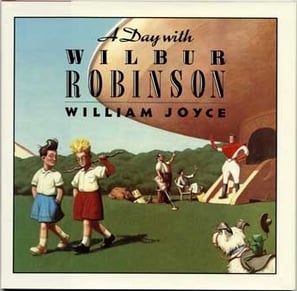 Joyce credits his support system for his many successes. Despite the booger incident Joyce says, "I was lucky enough to have teachers that really, really looked out for me and really encouraged all that..." If it weren't for teachers and parents encouraging his weirdness instead of stifling it, Joyce probably wouldn't be writing and drawing the wacky books we know him for today. He goes on to say: "I have known lots of adults who enjoyed similar enthusiasms as a kid and weren't encouraged and then didn't go anywhere with it and so they're unhappy in their jobs as adults. And if somebody had encouraged them and someone had said, 'Yeah you can do this when you grow up…' then they would have taken that path."
We can all be thankful for the encouragement William Joyce received, especially since it allowed him to take the path that's led to some of the most unique, hilarious, and wonderful illustrations and stories of the present generation.
*Source, here