Book collecting can be a complex and varied activity, hobby, or profession. First editions, rare editions, signed editions, provenance...these are all areas in which one needs to be educated. But what if you want to collect, but don't necessarily want to take a master's course to do it? Even better, what if you just want to collect what you love, and love what you collect? One possible solution is to become a collector of children's books.
Children's books remain comfortably collectible. They are desirable for many reasons. They have significant cultural value through the eminence of the illustrator. And they often relate to popular culture in an interesting and relevant way. Children's book collectors are typically not trying to establish a high-value collection (though some do), but rather are revisiting their childhood, are celebrating the childhoods of generations past, or are simply fans of a particular author or illustrator. Collecting children's books is a mission and act of love. To celebrate those who pilfer through second-hand stores and library book sales looking for children's book treasures, we have compiled this list of possible collector's items for your new or continuing hobby.
1. Jumanji by Chris Van Allsburg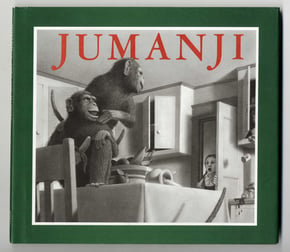 This classic children's book is collectible thanks to the incredible illustrations and engaging story. It won Chris Van Allsburg the Caldecott in 1982, and one can see why it remains a favorite. So many children's books give us cartoons of the real world, whereas Jumanji gives us magical realism: realistic drawings of fantastic things. The small thrill of danger that visited us as children reading this incredible book is still there as lions perch atop pianos, rain falls in a living room, and monkeys take over the kitchen.
2. Dear Mili by Wilhelm Grimm
This incredible book is a coupling of artists the like we may not see again. While Wilhelm Grimm has penned countless stories that have begged illustrated versions from countless artists, this one is distinct because it was a found manuscript, not discovered until 1983. Maurice Sendak, the iconic children's writer and illustrator, created companion illustrations both mesmerizing and surreal. These illustrations are remarkable in their detail, beauty, and charm even as they depict death, fear, and war. Although no children's book list would be complete without a mention of Sendak, this particular book is valuable and collectible for its beauty and cultural significance.
3. Wag-by-Wall by Beatrix Potter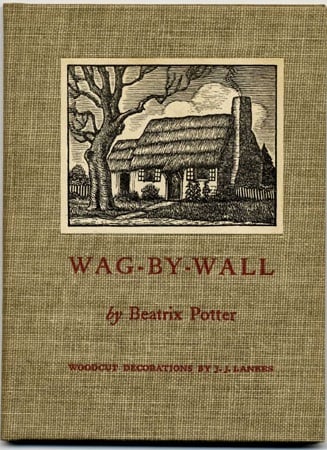 Beatrix Potter is a very recognizable name in children's literature. However, Wag-by-Wall may be one of her least recognizable titles. First books by notable authors are considered very collectible, but this book, the last of Potter's published works, also fits the bill. Wag-by-Wall was written in 1909, but not submitted for publication until long after Potter had secured fame for herself with her stories of Peter Rabbit. Potter submitted Wag-by-Wall to The Born Book Magazine following its request for a Christmas story in 1940. When the magazine editors read it, they loved it so much that they wanted to include it in their 20th anniversary edition. Potter passed away before ever seeing the book in print. Wag-by-Wall is a supremely interesting find for those who love first books, last books, or curiosities by beloved authors.
4. Eloise: A Book for Precocious Grown-ups by Kay Thompson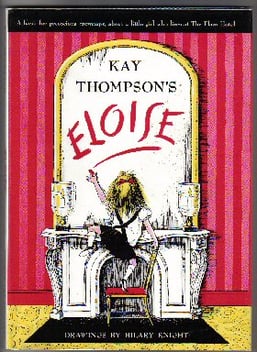 Kay Thompson lent her giddy, funny, and naturally youthful narrative style to this series of books, craftily illustrated by Hilary Knight. One of the factors that influences a collector of children's books is popular culture. Unlike the grand canon of books for adults, children's books that have been made popular, serialized, or even made into a movie or cartoon series are often considered more collectible than those that exist on literary merit and awards alone. Popularity is something that appeals to children and, therefore, the children's collection experience. This gem and the subsequent books—Eloise in Paris, Eloise at Christmastime, Eloise in Moscow, and Eloise Takes a Bawth—are welcome additions, even if they are not first editions, to any children's book collector's shelf.
5. ET: The Extra-Terrestrial Storybook by William Kotzwinkle
Scarcity is the allure of the value-driven book collection, but not so for those looking for collectible children's books. ET: The Extra-Terrestrial Storybook is one of the best-selling children's books of all time. It's not necessarily rare. It's a secondary source to the classic movie. It's a very contemporary title. But despite all that, it still has a rightful place in the very complex and exciting, upside down world of children's book collecting. In fact, ET: The Extra-Terrestrial Storybook is a great dark-horse example of how varied this hobby can be and how different kinds of volumes may find their way onto your shelves once you start. It's definitely one, if you can find it, to phone home about.
6. And to Think That I Saw it on Mulberry Street by Dr. Seuss
This incredible book is not only a fascinating read—with a young man dreaming up bigger and bigger tales and excitement to tell his father when he returns home from school, only to realize that the truth is all he has to offer—but it is the literary equivalent of a rookie baseball card. Dr. Seuss, whose real name was Theodor Seuss Geisel, wrote many books for children, with tales and ideas that rival the imagination of the young protagonist in this book. But it all started with this one and a horse and a buggy on Mulberry Street.
Zielinski, S. (n.d.). Factors Affecting Collectibility. Retrieved January 31, 2016, here.
Gross, J. (1988, November 8). Books of The Times; Maurice Sendak's Mark Upon a Grimm Tale. The New York Times. Retrieved January 31, 2016, here.
Zielinski, S. (2011, March 8). Top 100 Collectible Picturebooks – Part 10. Retrieved January 31, 2016, here.
Roback, D., & Britton, J. (2001, December 17). 12/17/2001 Volume 248 Issue 51 12/17/2001. All-Time Bestselling Children's Books. Publishers Weekly.