Oscar Wilde is often remembered for his bright wit and lavish lifestyle as well as his works The Importance of Being Earnest and The Picture of Dorian Gray. Master of the epigram, he coined phrases such as "Be yourself; everyone else is already taken" and "Always forgive your enemies; nothing annoys them so much." He lived much of his life as an evangelist for the Aesthetic movement in art, believing that life should be beautiful. What life delivered him, however, was not so idyllic.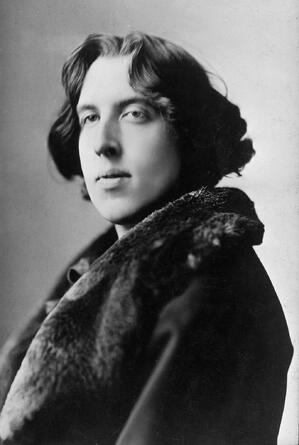 Wilde was born 1854 into a successful and cultured Irish family; his mother raised her children to love poetry and art, and his father was knighted for medical services to the state. Although Irish by birth, Wilde sought his university education at Oxford and later said that the first thing he forgot there was his accent. It was at Oxford that Wilde met Walter Pater who introduced him to his theory of aestheticism: mainly, that art exists to better society and is therefore of utmost importance. Wilde enthusiastically acted out his beliefs and gained a reputation for decadence and hedonism.
Despite the outward appearance of wealth, Wilde struggled to make ends meet as a working writer for several years. He toured America as a lecturer on aestheticism and the decorative arts. He contributed poems and lyrics to magazines. Wilde married Constance Lloyd in 1884, and after they settled in London, Wilde took over as the editor of The Lady's World magazine, which he renamed and changed to a more serious editorial style. As an editor, Wilde settled into his signature prose style. More published short fiction followed, including the first version of The Picture of Dorian Gray, after which Wilde turned his attention to the theater.
Only days after the premiere of his most famous play, The Importance of Being Earnest, Wilde received a calling card from Lord John Douglas, the Marquess of Queensberry. It simply said, "For Oscar Wilde, posing somdomite" (a misspelling of "sodomite"). It was well known that Wilde had an intimate relationship with Alfred Douglas, the Marquess's son; the two were not at all discreet in public. Queensberry was determined to end the shame and gossip brought to the family by the couple. He even tried to sneak into the theatre on the opening night of Earnest with a basket of vegetables to throw at the actors (he wasn't allowed in). Dropping off the incendiary calling card was the last straw. Wilde saw no other option than to take Queensberry to court on charges of libel.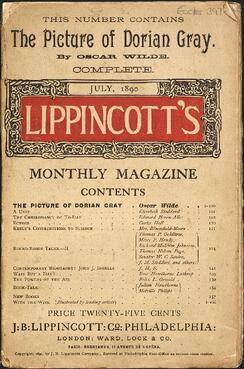 Some of Wilde's friends, including fellow playwright George Bernard Shaw, advised him to drop the case. Too much of Wilde's life would be dragged into the spotlight, they said. It was Alfred Douglas who urged Wilde's action against his father. Wilde later addressed Douglas in his letter, De Profundis: "In your war of hate with your father I was at once shield and weapon to each of you." Wilde went into the trial with righteous indignation, but the tables turned almost immediately. Queensberry's defense was strongly built with evidence that Wilde was, in fact, a sodomite and homosexual, and that his calling card had been an act of public service. Wilde's prosecution crumbled, Queensberry was not convicted, and although Wilde did try to run to France after the trial, the British Crown charged him and Alfred Douglas with sodomy and gross indecency. They were both sentenced to two years imprisonment and hard labor.
Wilde survived his sentence, but the experience broke his spirit and left him severely weakened. In 1900, he died from meningitis - just three years after his release. The trial of Oscar Wilde continues to fascinate us, not only because of its sensational nature, but because it shows the wheel of fortune so dramatically turned. An artist in his prime was brought low by his harsh society. However, time has been kind to Wilde. His gravestone in Paris bears the marks of thousands of kisses, and his works continue to be read and performed across the world.