Yesterday Brian Floca won the Caldecott Medal for Locomotive. The award places Floca in the company of many of the most accomplished children's authors and illustrators of the twentieth century. The first book chosen for the Caldecott Medal was Animals of the Bible, with an introduction by Helen Dean Fish and illustrations by Dorothy Lathrop.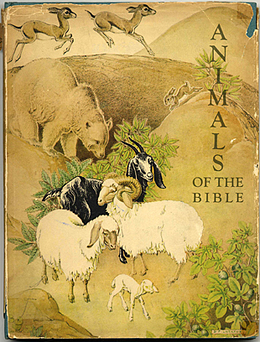 Helen Dean Fish was born on February 7, 1889 in Hempstead, Long Island, New York. She attended Wesley College, where she graduated in 1912. After graduation, she taught at a private school for girls in Asheville, North Carolina. Fish continued her graduate studies at Radcliffe College to study playwriting. She was hired by Fredrick A. Stoke's publishing company in 1917, where she would work at for the rest of her life.
Fish started out as a manuscript reader; however, several years later she was made the company's first children's book editor. Some of her greatest accomplishments include editing Story of Doctor Dolittle (Hugh Lofting, 1920), When the Root Children Wake Up (Sybille von Olfer, 1906), and mentoring Loris Lenski—author of Strawberry Girl (1945) and 1946 winner of the Newbery Medal.
For Animals of the Bible, Fish collected verses from the King James Version of the Bible. Fish chose the illustrious and talented Dorothy Lathrop to illustrate her children's book. Lathrom composed black and white lithographs for the volume.
New York native Dorothy Lathrop was born on April 16, 1891. She studied at Columbia University, Pennsylvania Academy of Fine Art, and the Art Students League. She dedicated her art to preserving the beauty and importance of nature.
Lathrop began illustrating for Walter de la Mare in 1919. The first book she worked on for him was The Three Mulla Mulgars. She would continue to illustrate five more of his children's books, along with Rachel Field's children's novel, Hitty, Her First Hundred Years. The novel received a Newbery Medal in 1930 and named by the American Library Association as the best children's novel.
Collecting Caldecott-Winning Books
Collectors of children's books appreciate Caldecott-winning books for their exceptional illustrations. Many children's literature enthusiasts build personal libraries of Caldecott winners. If you'd like to pursue this kind of collection, you'll want to keep a few principles in mind. First, strive for the best editions you can afford. Collectors prefer first editions in very fine condition, though it can be quite difficult (or even impossible) to find children's books in very fine condition--children aren't always gentle with their books.
Second, your collection will be worth more if it's complete; book collecting is certainly a pursuit in which the whole may be greater than the sum of its parts. To that end, a collecting guide comes in quite handy. Our free Caldecott Collector's Guide is the perfect checklist, with an image of each book, first edition identification information, and a summary of the book.