The art of marbling paper is very, very old. Unfortunately, like many historical facts involving paper, no one is exactly sure how old it is. Paper doesn't tolerate the ravages of time like stone or metal. However, historians agree that the technique of marbling has been making paper exceptionally beautiful since 10th century Japan.
In Japan, traditional paper marbling is known as suminagashi ("floating ink"). Sumi inks are dropped into a shallow pan of water where they float on the surface. A surfactant made of tree resin is then dropped into the ink, which spreads across the water. Designs are added with a fan or by blowing gently. The paper is laid onto the ink for a brief time and then removed.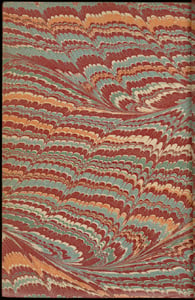 The process is similar to that of Western Europe. However, since inks and paints in Europe were water-based (sumi ink is not), another chemical was needed to thicken the water so the paints would not sink. This compound, known as size, was usually Tragacanth (a natural gum) or more recently made from a type of moss called Carrageenan. Another difference was the process of coating the paper with alum, which allowed the paper to be rinsed after and retain its marbled pattern. Styluses and combs of all kinds were used to create different effects in the patterns.
Early in its history, marbled paper was used for important documents. Marbling always creates a one-of-a-kind monograph. Even if the exact same process was used, variations in the water, the artist's hand movements, even the dust particles in the air prevent an exact duplicate. As such, marbled paper was used to prevent forgeries and erasure. As the business of book binding took off, marbling was also used on the edges of ledgers. Theoretically, if a single leaf of the ledger was taken, the pattern would be disrupted.
For approximately 400 years, the secrets of marbling paper were kept closely among the masters. Bookbinders were anxious to learn these secrets, since it was fashionable to use marbled paper as endpapers. Then, in 1853, a marbling master named Charles Woolnough published a book titled The Art of Marbling, which turned paper marbling into a popular handicraft and opened the floodgates for its use in everyday bookmaking.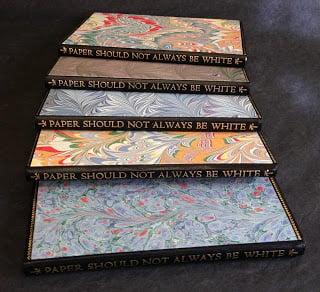 Artists are still exploring the possibilities of marbled paper, like this limited printing of Paper Should Not Always Be White by Heavenly Monkey. The same text is printed on several different kinds of marbled paper to demonstrate how the paper affects the reading experience.
If you have a book with marbled endpapers, this useful guide from the University of Washington can help you identify the pattern. For more information on this subject, consult the definitive guide in the business: Richard J. Wolfe's 1990 book Marbled Paper: Its History, Techniques, and Patterns: With Special Reference to the Relationship of Marbling to Bookbinding in Europe and the Western World.