"Under the microscope, I found that snowflakes were miracles of beauty; and it seemed a shame that this beauty should not be seen and appreciated by others. Every crystal was a masterpiece of design and no one design was ever repeated., When a snowflake melted, that design was forever lost. Just that much beauty was gone, without leaving any record behind." -Wilson Bentley (1925)
Born on February 9, 1865 in Jericho, Vermont, Wilson Bentley was fascinated with snowflakes from childhood. His mother gave him an old microscope when he was fifteen years old, and he tried to draw the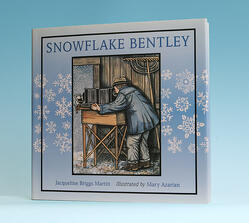 snow crystals he saw through the lens. Eventually he decided to attach a microscope to a bellows camera to record the images. After years of trial and error, Bentley discovered a method of photographing individual flakes against a black velvet background before they melted or sublimated. His method is still used today, mostly unchanged, to photograph snow crystals.
During his lifetime, Bentley captured over 5,000 snowflakes and concluded that no two are alike. In 1931, he published Snow Crystals, which contains more than 2,400 images of snowflakes. Bentley's journey to discovery is also told in the children's book Snowflake Bentley by Jacqueline Briggs Martin. Illustrated by Mary Azarian, the book won the 1999 Caldecott Medal for best illustrated children's book.
Bentley's Snowflake Photographs
Technically called "snow crystal micrographs," Bentley's images are stunning in their precision and intricacy. College and universities clamored to acquire them Here's a selection of images he made.