Although Truman Capote is best known for his works Other Voices, Other Rooms (1948), Breakfast at Tiffany's (1958), and In Cold Blood (1965), it was his short stories that first launched his writing career. In 1946, Capote won the prestigious O. Henry Award for his short story "Miriam." He has since become one of America's most recognized and eccentric 20th-century writers.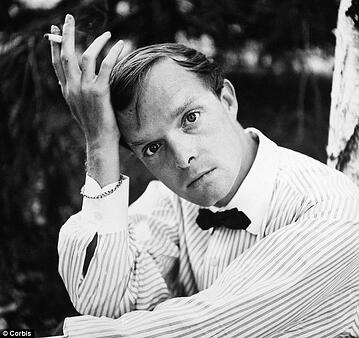 Capote was born Truman Streckfus Persons on September 30, 1924, in New Orleans, Louisiana and spent much of his childhood cared for by his mother's relatives in Monroeville, Alabama. His parents had a tumultuous marriage, and Capote often said he felt abandoned by them. In Monroeville, Capote became friends with a neighbor, young Nelle Harper Lee, author of To Kill a Mockingbird. Harper was by all accounts a tomboy and a stark contrast to Capote, who was a sensitive child. Capote's biographer, Gerald Clarke, later wrote, "Nelle was too rough for most other girls, and Truman was too soft for most other boys."
After his parents' divorce, Capote moved to New York City to live with his mother and his new stepfather, Joe Capote. During this time, Truman's mother struggled with alcoholism, which exacerbated the already difficult relationship between her and her son. She often taunted Capote for his effeminate personality, and sent him to military school in an attempt to make him more masculine.
Despite problems in school, Capote showed early promise. Indeed, by age 11 he decided writing was his calling and wrote extensively - often for three hours each day. His first successes came with short stories published in Mademoiselle and Harper's Bazaar between 1943 and 1946. Following the success of his short story, "Miriam," Capote received an advance from Random House that allowed him to begin work on his novel, Other Voices, Other Rooms. Published in 1948, the novel spent nine weeks on The New York Times bestseller list and made Capote famous.
Published in 1951, his novella The Grass Harp was adapted for Broadway the following year. A story about a group of misfit characters who take refuge in a tree, the novella became a musical in 1971 and a film in 1995. But it was the 1952 Broadway production that lead to Capote's involvement in the movie industry where he became a successful screenwriter.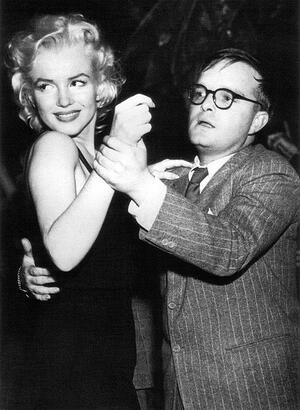 By 1958, Capote achieved new professional heights with Breakfast at Tiffany's, his story of a New York City party girl who relied on men to advance in life. Three years later, the film was made starring Audrey Hepburn as socialite, Holly Golightly. Capote was disappointed that Marilyn Monroe didn't receive the lead role.
Capote's most intensive project was a work of non-fiction: the book, In Cold Blood, which began as a series of articles for The New Yorker. Capote traveled with friend Harper Lee to a farming community in Kansas torn apart by the murder of members of a local family. Capote and Lee interviewed the townspeople, police, and case investigators. Then, the alleged killers were found in Las Vegas and brought back to Kansas.
In 1960, Capote and Lee attended the murder trial of the accused. The two men were found guilty and executed five years later. Capote interviewed the men on several occasions and visited them in prison shortly before they were hanged. In writing the book, Capote used a dramatic writing style blurring the lines between fiction and non-fiction. In Cold Blood was a tremendous critical and commercial success.
However, some found fault with Capote for insisting that the book was factually accurate. In a 1966 article for Esquire, Phillip K. Tompkins claimed Capote "made both a tactical and a moral error" in "insisting that 'every word' of his book is true.'" Writer Jack Olsen commented, "I know fakery when I see it." Several people interviewed in the book asserted that Capote mischaracterized events or invented them altogether.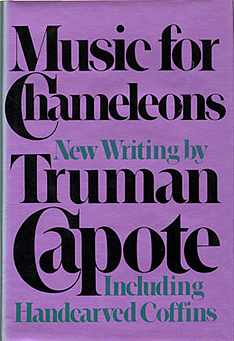 The process of writing the book drained Capote and he never recovered from the tragic subject matter. This did not stop him from an active social life, however, partying with New York celebrities and making his mark at the infamous Studio 54. Some of his critics said Capote "failed to join the ranks of the truly great American writers because he squandered his time, talent and health on the pursuit of celebrity, riches and pleasure."
Four years before his death, Capote published a collection of short fiction and non-fiction in Music for Chameleons. The work remained on The New York Times bestseller list for 16 weeks. The collection appeared after Capote reemerged from a 14-year writing hiatus and gave Capote freedom to write about himself and some of the agony he faced as a child.
In the 1970s, Capote underwent treatment for alcoholism and drug abuse, had prostate surgery, and suffered from a painful nerve condition. In 1984, Capote died from ongoing health complications. He was 59 years old. He left behind his longtime friend and companion, Jack Dunphy, with whom Capote had a 35-year romantic relationship.