"No matter what anybody tells you, words and ideas can change the world," Robin Williams's character, Mr. Keating asserts in the film "Dead Poets Society." Mr. Keating could have used French writer Emile Zola and the letter he wrote to a Paris newspaper in January 1898 to illustrate his point. Simply titled "J'Accuse" ("I accuse!"), Zola's letter shone a light on the injustice and antisemitism of 19th century France. So powerful was the document that it ultimately led to the exoneration of an innocent man and the passing of a French law separating church and state.
Emile Zola wrote the "J'Accuse" letter four years into what became known as the Dreyfus Affair. Alfred Dreyfus was a young Jewish artillery officer in the French military who was accused of selling confidential military information to the Germans. Dreyfus's family was from Alsace, a French province that had come under German rule after the conclusion of the Franco-Prussian War in 1871. The investigation of leaked information was led by Colonel Sandherr of the French Intelligence Agency who was openly antisemitic as was his deputy, Colonel Fabre. Dreyfus's Alsatian roots coupled with his Jewish identity made Sandherr and Fabre immediately suspicious.
Dreyfus was arrested for treason on October 15, 1984 despite there being little evidence against him. Information about the case was then leaked to the antisemitic newspaper La Libre Parole, which began an virulent crusade against Dreyfus. In December of 1894, Dreyfus was court-martialed during a secret trial in which he was not allowed to know the evidence against him. He was then stripped of his rank in a public ceremony and sentenced for life to a penal colony in French Guyana called Devil's Island where he was placed in solitary confinement.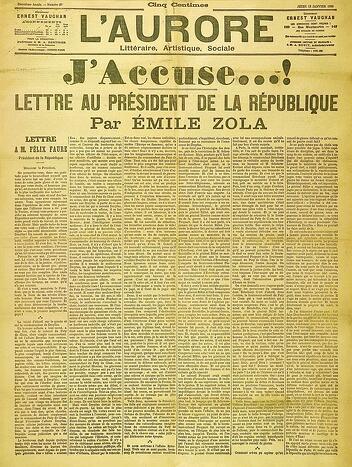 In July of 1895, due to poor health, Colonel Sandherr was replaced as head of the French Intelligence Agency. His replacement was Lieutenant-Colonel George Picquart. Shortly after becoming head of intelligence, Picquart intercepted the sale of more military secrets to the Germans and found the evidence implicated Infantry Major Ferdinand Walsin-Esterhazy. Upon looking back through the Dreyfus file, Picquart discovered that Esterhazy was guilty of the crime for which Dreyfus had been accused and sentenced. When Picquart tried to reopen the case, the French General Staff silenced him by transferring him to the southern desert of Tunisia. Fortunately, Picquart had a confidant in his longtime friend, Louis Leblois, and it was Leblois who, on November 8, 1897, approached Emile Zola with the details of the Dreyfus case. From that point on, Zola became the champion of Alfred Dreyfus.
The "J'Accuse" was an open letter to French president Felix Faure. It was printed on the front page of the Parisian newspaper L'Aurore. In the letter, Zola accused French army officials of obstruction of justice and antisemitism in the Alfred Dreyfus case. He also highlighted several of the judicial errors made in the case. Zola's intention in writing the "J'Accuse" letter was to be sued for libel so that the details of the Dreyfus case would be brought to light and made public.
Zola's plan worked. He was tried and found guilty of libel on February 7, 1898, and the Dreyfus case was reopened. Zola fled to England to escape time in jail, but returned to France in 1899 when the charge against him was dismissed. Alfred Dreyfus was pardoned and allowed to return to France in 1899. In 1904, he reappealed his case, and on July 12, 1906 he was found innocent and exonerated. Afterward, he was reinstated in the army as a Lieutenant-Colonel.
Emile Zola continued to be a prolific writer and was nominated for both the 1901 and 1902 Nobel Prize for Literature. When Zola died in 1902, Dreyfus attended his funeral. Zola was originally buried in the Cimetiere de Montmartre in Paris, but in 1908 his remains were moved to the Pantheon and placed in the same crypt as Victor Hugo and Alexandre Dumas.