In the Santa Fe nursing home in which Evan S. Connell, Jr. spent the final years of his life, he spoke so little that some residents thought him to be mute. He kept to himself, generally, granting few interviews and was perpetually turning down teaching positions. Spouseless and childless, some might say Connell lived the definition of a solitary life. It seems as if writing was where he displaced the majority of his vitality. Connell has a reputation among writers and readers for valuing his writing above all else. There's one anecdote where the author, upon seeing two attractive girls sunbathing on the roof outside his writing room, drew the blinds. Finally able to return to writing free of distractions, he was happy.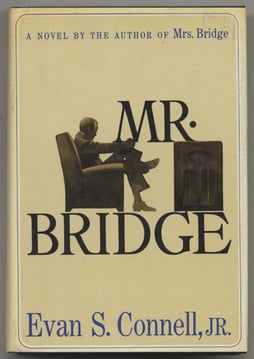 Connell's reserved nature certainly did not help his sales. Until his study of Custer's Last Stand became a bestseller in his sixties, Connell took up whatever jobs he could to get by, including one in an unemployment office. His work was often upstaged by authors who were more enthusiastic to engage with the public. As an observer of American middle class life, Connell is easily as good as contemporaries like Richard Yates or John Updike. Yet the latter, more camera-ready authors ended up with more fame. Some reasons for Connell's neglect are more coincidental. 1959, the year of his debut novel Mrs. Bridge, also saw the debut of another chronicler of bourgeois malaise: Philip Roth.
Mrs. Bridge is generally beloved by its readers. James Patterson considers it his single biggest influence. It's been called a classic of Wasp repression. Yet the novel was out of print for two decades. Along its slow burn of fame, the book was adapted into the film Mr. and Mrs. Bridge (1990), starring Paul Newman. Although the novel, which depends on the ineffable and inexpressible for its richness, never translated perfectly to film.
Connell wrote Mr. Bridge ten years later. It's about the patriarch of the same family, and the novel's protagonist reacts to many of the same events that happen in Mrs. Bridge. Both novels are composed of over one hundred vignettes. Some barely qualify as chapters, consisting of fewer than 200 words. The accumulation of brief passages gives the reader a sense that nothing happens, but Connell's nothing happens more vacuously than the average reader is used to. It's difficult to recall any point of plot when Mr. Bridge's idle remembrance of a man's petty debt to him counts as an "event." Even more so when the character resolves not to do anything about it, only to carry on with his quiet resentment.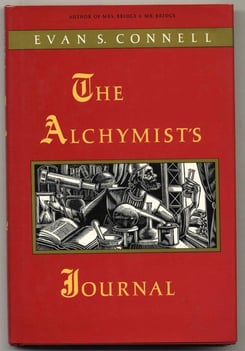 Connell's repressed characters differ from his more famous contemporaries in this regard. When characters of Cheever, Roth, or Yates feel confined, they are happy to break out of it. They conduct their affairs, quit their job, tell off their spouses. Connell's characters, when they discover their emptiness and suffocation, fail to break free. They have trouble even announcing their despair to another person. Their silence is just as much a matter of courage as it is the inability to describe their problem in the first place.
Connell came from a similarly laconic Midwestern family. He never asked his father what he thought of his first book, Mrs. Bridge, and his father never offered to share. Yet we can hardly feel Connell was like his confined characters, for if there was anything he had, it was freedom. While he was a master of capturing this particular American way of life, Connell did not stick exclusively to this subject.
In addition to his fiction, he wrote about whatever interested him, even if publishers told him they had no desire to print it. Connell left behind books about anything captivating — the Crusades, the Aztecs, alchemy, painter Francisco Goya. Son of the Morning Star, his book about General Custer, brought him the most fame, and was described by Larry McMurtry as "one of the few masterpieces to concern itself with the American west."
Connell excels as a writer of fiction — as a historian — in realms of characterization and subtlety. Despite his reticence, his obscurity, and his silence, Evan S. Connell, Jr.'s talent is boisterous, and demands our attention.