At this time of year, it is common to hear cheery adults ask wide-eyed children, "What do you want from Santa Claus?" In the lead-up to Christmas day, one can find a white-beard wielding, red suit wearing, rosy-faced man at most every shopping center and holiday event, and whether the young children are excited to tell him their Christmas wishes or run screaming in terror at the thought of sitting upon his lap, imagining Christmas without Santa Claus is incredibly difficult. Indeed, Santa has become so intertwined with the Christmas holiday that for many, he takes center stage on December 24 and 25. What are the origins of the modern day Santa Claus? Who was the real St. Nicholas? And who helped bring the image of the man in the red suit into popular culture?
Who is Saint Nicholas?

Santa Claus takes his name and the spirit of much of his generous, gift giving ways from an early Christian bishop, Saint Nicholas of Myra, also known as Nicholas of Bari. Nicholas of Myra was born in the late third century to a wealthy family. His parents died when Nicholas was young, leaving him a hefty inheritance. While not much written documentation by or about Nicholas exists from his lifetime, the earliest records indicate that Nicholas was generous with his inheritance, giving much of it away and using his wealth to serve the poor and those in need.
Nicholas loved children, and legend has it that he underwent a number of trips by sea during his lifetime, notably making a pilgrimage to the Holy Land and calming a storm that threatened to capsize his ship. As a result of these stories, St. Nicholas became the patron saint of sailors.
Most fittingly for the purposes of today's post, however, are the stories of St. Nicholas' generosity and gift giving, which of course, tie him to the modern day Santa Claus.
The most common legend shared about St. Nicholas is the story of how he saved three sisters from being sold into slavery or prostitution. The girls' father was distraught, unable to come up with the money to pay for them to be married. Legend has it that St. Nicholas dropped money down the family's chimney for three consecutive nights, and the man was able to have a sizeable dowry for each of his daughters who were thus able to be married.
In an interview with The Real Spirit, historian Adam C. English, author of The Saint Who Would Become Santa Claus, describes the significance of this legend as follows:
"[H]ere was a story about Nicholas anonymously giving something to these three poor girls—girls who no one else in that era would have cared about. He is truly taking the biblical command to look out for "the least among you" to heart in a serious way. He does something that is purely generous and purely good—for people who weren't the concern of society in that era—and he does it without any hope of reward.

That story lit up people's imagination. He becomes a gift giver, a patron saint of young maidens, newlyweds and anyone in dire distress. You're down to your very last crust of bread, but watch the window: Nicholas may yet appear to save you. That story of the three maidens was his ticket to fame."
So how do we get from St. Nicholas to Santa Claus? The History Channel provides us with some helpful linguistic details. St. Nicholas has a strong following to this day in Holland where families celebrate him on the eve of his December 6 feast day, putting out shoes or stockings to catch the gifts of gold St. Nicholas threw in the window or down the chimney—depending on what story one takes as his or her point of reference. Dutch children would often find oranges (to symbolize St. Nicholas' gold offering) and chocolate coins in their shoes.
The Dutch form of Saint Nicholas is "Sinter Nikolaas" which was shortened to "Sinter Klaas" which then, Americanized, became "Santa Claus".
Books Help Make Santa Claus Famous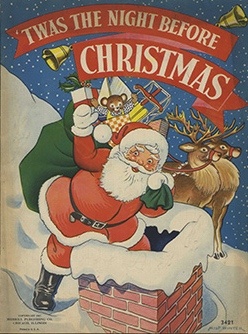 When immigrants from Holland and other European nations made their way to America, they brought their traditions with them. In the late part of the 18th century, New York newspapers documented Dutch families celebrating St. Nicholas' feast day. Washington Irving wrote a book titled The History of New York, and in it, he called St. Nicholas the patron saint of the city. This declaration went a long way in promoting the stories and legends surrounding the man.
In the early part of the 19th century, Clement Clarke Moore penned the famous poem, 'Twas the Night Before Christmas, originally titled "An Account of a Visit from St. Nicholas."
Some of the poems most famous opening lines include,
"The stockings were hung by the chimney with care,

In hopes that St. Nicholas soon would be there;

The children were nestled all snug in their beds,

While visions of sugar-plums danced in their heads;…"
The tradition of St. Nicholas' generosity took center stage in Moore's poem.
He went further to describe the man who has become universally identifiable as Santa Claus, as "a right jolly old elf":
"His eyes—how they twinkled! his dimples how merry!

His cheeks were like roses, his nose like a cherry!

His droll little mouth was drawn up like a bow

And the beard of his chin was as white as the snow;"
So it's easy to see how history mixed with a little bit of legend and a sprinkling of authorial freedom has brought us to the man we know as Santa Claus. In honor of the anniversary of St. Nicholas' death today and as we anticipate the upcoming Christmas holiday, perhaps we could all do well to look for ways to be more generous with those in our own corners of the world.
Sources: The History Channel, Read the Spirit, St. Nicholas Center