As a young writer, Charles Dickens was full of charm and intellect with no clear sense of what he wanted to do other than become famous. He came to write plenty and eventually attained that hazy goal, but in the process he also changed the course of history and essentially created the modern celebration of Christmas.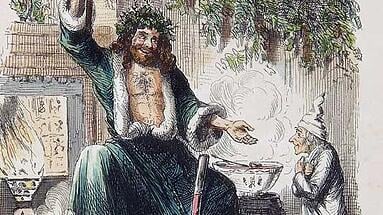 Historical Context in Victorian England
During the 1830s, a rise in secularism and a series of social failures and class struggles in Britain led to declined interest in Christmas and a near end to the uplifting sense of the season. Though Father Christmas was well-established, the modern traditions of the Christmas tree, card exchanges, singing of carols, and gift-giving were nowhere to be seen. Historians studying the time assert that it was Dickens who offered a secular version of the holiday to the public, enabling a rush of interest in Victorian traditions and a willingness to adopt new ideas such as the German Christmas Tree from other cultures.
A Christmas Carol, a Hint of Hope
By the time he wrote the first of the five Christmas stories, Dickens had authored The Pickwick Papers, Oliver Twist, and the travelogue American Notes for General Circulation, earning global intrigue and widespread respect from his contemporaries. A Christmas Carol (1843) was typical of his style—realistic, humorous, and honest, a social commentary on the plight of the poor and the duality of the winter season. Ebenezer Scrooge himself represented the struggle of the times and the ability of everyone to find their benevolent side. Poet and editor Thomas Hood wrote of the novella, "If Christmas, with its ancient and hospitable customs, its social and charitable observances, were ever in danger of decay, this is the book that would give them a new lease." Following the immediate public acceptance and critical acclaim of Christmas Carol, the story sold out by Christmas Eve, underwent seven editions by the spring of 1844, and is one of the few books in history to have remained in print uninterrupted ever since.
The Christmas Story Legacy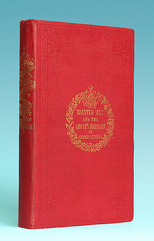 Dickens authored four more Christmas stories of a similar style for the next several years. The Chimes (1844), The Cricket on the Hearth (1845), The Battle of Life (1846), and The Haunted Man and the Ghost's Bargain (1848) were popular with the public despite scathing reviews from critics. As a unit, the set of five represents a decade of gentle insistence by Dickens that social injustice be answered and the Christmas Spirit prevail.
During the 1850s and 1860s, both British and American families adopted nearly all of the modern traditions in place today, and dozens of later works were inspired by Dickens' series. The phrase "Merry Christmas" belongs to him, and the phenomenon of fortunate individuals looking after those less fortunate began with his Carol ideology. He became famous as planned, and he brought with him over 150 years of good cheer.