Author Stephen Crane, was born November 1, 1871 in Newark, New Jersey. Despite a severely religious upbringing--or perhaps because of it--Crane lived an unconventional life. He was first involved in scandal during his twenties, when he was called as a witness for the trial of Dora Clark: a prostitute and friend. Later, he began a long-term relationship with Cora Taylor, the owner of a brothel. The two lived in London where they became friends with writers including Joseph Conrad and H. G. Wells. Just a few years after writing his novel, The Red Badge of Courage, Crane died at the age of twenty-eight.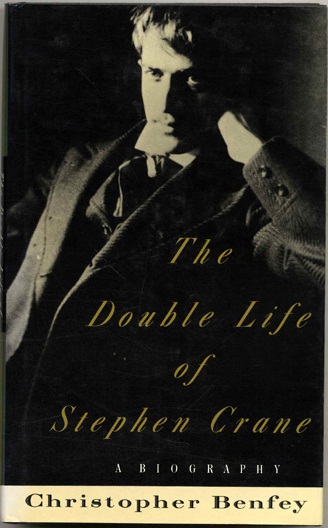 Crane's father was a Methodist minister who he described as ""was a great, fine, simple mind." His mother was an active member of the Woman's Christian Temperance Union. Writing was an important part of his childhood as both parents published books and two of his 13 brothers become newspapermen. At the age of eight, Crane began writing his own stories, and by the age of 16 he began publishing articles in The New York Tribune.
After studying at Lafayette College and Syracuse University, Crane moved to New York City to work as a freelance writer for the Bachellor-Johnson newspaper organization. While writing his first novel, Maggie: A Girl of the Streets, he lived in the slums to gain first-hand knowledge of poverty and life on the streets. Once, he even dressed as a tramp and spent the night in a flophouse. This produced the short story "Experiment in Misery" and inspired many other writers to look for story ideas in the Lower East Side's "The Bowery." The area had once housed a thriving district of shops and mansions but had been replaced by post- Civil War saloons, dance halls and brothels.
In 1893, Crane began writing his most famous novel, The Red Badge of Courage. Disgusted by the "emotionless" magazine stories published about the Civil War, Crane sought to write "a psychological portrayal of fear." The novel, a romanticized depiction of the American Civil War from the point of view of an ordinary soldier, was published to immediate success. Many were convinced that the book was written by a veteran soldier because the story was so realistic.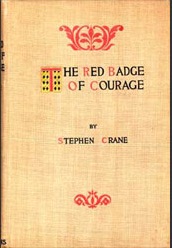 The success of The Red Badge of Courage launched Crane's career as a war correspondent. His first venture was aboard the SS Commodore en route to Cuba. The ship sank two days into its voyage and left him adrift with three other men before they reached the Florida coast a day and a half later. He published an account of this ordeal titled, "The Open Boat."
While he recuperated in Jacksonville, Florida, Crane made the acquaintance of Cora Taylor, a former brothel owner. He brought Taylor with him in April 1898, when he set off to cover the Greco Turkish War. One month after their arrival, an armistice was reached and the two moved to England. There, he published his novels, The Third Violet and Active Service. Unfortunately, these novels received extraordinarily negative reviews, and Crane was left in financial crisis.
On top of his monetary troubles, Crane suffered from rapidly deteriorating health. During his time working in the slums and as a war correspondent, he had contracted malaria and yellow fever. These diseases weakened him, but it was tuberculosis that posed the real threat. He and Taylor checked into a German health spa but one month later, on June 5, 1900, Crane passed away.
Stephen Crane led a life full of interest, lived hard and fast. Biographer Christopher Benfey writes in The Double Life of Stephen Crane, that his was not just a life well lived, but a life lived with purpose.