There is, written in the annals of fictional history, an account of a "bear with very little brain." He resides in The Hundred Acre Wood. This wood can be difficult to find, but once you discover it, it is clearly mapped. One can mark the very spots where some of the sweetest moments between a honey of a bear and his rag-tag team of friends take place. This is one reader's list of the top ten moments from Winnie-the-Pooh.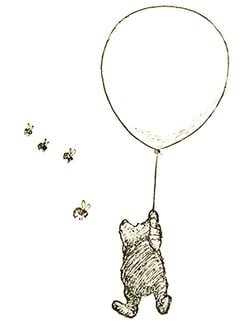 1. Our bear, obsessed with honey, disguises himself as a raincloud and floats by way of balloon to a bee hive high in a tree. What could possibly go wrong?
2. Winnie the Pooh visits Rabbit and overstays his welcome when he finds himself too full of honey to squeeze all the way back through the door. The only thing sweeter than his eleven o'clock snack is his request for Christopher Robin to read him a "Sustaining Book, such as would help and comfort a Wedged Bear in Great Tightness." His friend obliges and "so for a week Christopher Robin read that sort of book at the North end of Pooh."
3. After a failed attempt at catching a Woozle, Christopher Robin explains to Pooh that he has, in fact, been following his own footsteps. Pooh laments that he is indeed "a Bear of No Brain at All." His friend responds soothingly that he is the "Best Bear in All the World." "Am I?" says Pooh hopefully.
4. An empty honey pot, also known as a "Useful Pot" to put things in and a popped balloon team up to provide hours of enjoyment for gloomy Eeyore on his birthday.
5. After heavy rainfall and flooding threaten the inhabitants of the Hundred Acre Wood, Christopher Robin and Pooh set sail in an upturned umbrella to save their friends. Pooh's ingenuity is rewarded when Christopher Robin names the boat "The Brain of Pooh," and they "set sail forthwith in a south-westerly direction revolving gracefully."
From The House at Pooh Corner (1928)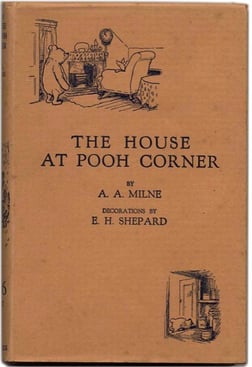 6. Winnie The Pooh invents a game called Poohsticks. Fir cones, sticks, a wooden bridge, and a lazy river current challenge Pooh to predict outcomes. His friends join in for some friendly competition.
7. When Eeyore unexpectedly floats under the bridge during a game of Poohsticks, we discover that he was "BOUNCED" by Tigger." Tensions run a bit high, but the continuation of the game eventually distracts them all. In the end, Piglet says, "Tigger is all right really." "Of course he is," said Christopher Robin. "Everybody is really," said Pooh.
8. Pooh and Piglet, holding hands, venture out on a blustery day.
9. Eeyore finds a new house for Owl in the aftermath of the blustery day. It just happens to be Piglet's house. Piglet bravely surrenders it to his friend in need. Christopher Robin then asks Piglet, pointedly, what he would do if his house was blown down. "Before Piglet could think, Pooh answered for him. 'He'd come and live with me,' said Pooh, 'wouldn't you, Piglet?' Piglet squeezed his paw. 'Thank you, Pooh,' he said 'I should love to.'"
10. Winnie-the-Pooh is knighted. It is a farewell gesture from Christopher Robin who confides in Pooh, "'I'm not going to do Nothing any more.' 'Never again?' Pooh asks. 'Well, not so much. They don't let you.'" In the end they "went off together. But wherever they go and whatever happens to them on the way, in that enchanted place on the top of the Forest, a little boy and his Bear will always be playing."
A college freshman with whom I am well-acquainted, recently stood at the railing near the stair holding a polka dot blanket and a stuffed bear. She asked jokingly (but not really), "What's the rule on bringing these to college?" Had she been a good deal smaller and her bear somewhat largish, I imagine her carrying him downstairs by the paw with his head going "bump, bump, bump" behind her. Regardless of the unmapped forests we have yet to navigate and the precious moments we have yet to experience, it may be wise to take a bear of "very little brain" and very big heart along with us on the journey.