Thriller and horror have long been a part of readers' diets. From the Gothic to Edgar Allan Poe to Stephen King, readers find joy in the macabre. One of the most popular thriller writers is Thomas Harris. Already popular through his writing, the film adaptations of his work helps to build his devoted audience. His creation of Hannibal Lector has led to television series, plays, and parody musicals about the world's favorite cannibal and catapulted Harris into fame.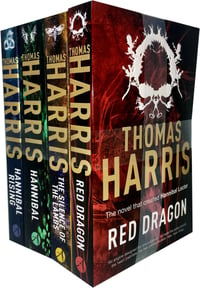 Born September 22, 1940, Thomas Harris grew up in Rich, Mississippi. He attended Bailer University in Texas where he majored in English. At night, he worked at the Waco News-Tribune as a reporter on the city desk and covered the police beat. He also did some work writing for magazines. After graduating and traveling in Europe, Harris started working in New York at the Associated Press, where he stayed until 1974. His experience covering crime as a reporter and his writing for the magazines helped prepare his for his future career as a novelist. Harris and two friends started to research for a novel, but Harris eventually took over. With the publication of the novel, Black Sunday, in 1975, Harris started to work full time as a novelist, spending extensive time on his research. Despite the wild popularity of his novels and characters, Harris manages to avoid being a very public figure, keeping an air of mystery.
Published in 1975, Black Sunday, Harris' first novel, is a thriller that takes place during the Super Bowl in New Orleans while law enforcement officers attempt to stop terrorists planning to commit mass murder. Harris was inspired by the hostage crisis at the 1972 Munich Olympics. A film version of the novel was made in 1977 and, as of 2018, was only one of two of his novels not involving Hannibal Lecter.
Red Dragon, Harris' second novel published in 1981, is the first of his novels to feature Hannibal Lector. In the novel, FBI profiler William Graham works to find a serial killer named The Tooth Fairy. He asks Hannibal Lector for help, a serial killer he had previously arrested. In 1986, the novel was adapted into a film and the name changed to Manhunter. A second film with the original title was released in 2002. Chicago's Defiant Theater produced a stage version of the novel in 1996.
Harris' third novel and sequel to Red Dragon, The Silence of the Lambs, was published in 1986. One of his best known works, thanks, in part, to the 1991 film, the plot follows Clarice Starling, an FBI trainee, as she works with Jack Crawford and Hannibal Lector to catch the serial killer "Buffalo Bill." In 1988, the novel was awarded the Bram Stoker Award for Best Novel. The following year it won the Anthony Award for best novel and was nominated for the World Fantasy Award.
Hannibal, The Silence of the Lambs sequel published in 1999, is Harris' fourth novel. Set seven years after The Silence of the Lambs, Clarice Starling is now a FBI Special Agent facing trouble at work after a drug raid went wrong. When she is contacted by Hannibal Lector, she is tasked with finding him while other criminals seek him for revenge. Reception for the novel was mixed with some extolling its virtues as a triller while others criticized its content and ending. In 2001, a film adaptation was released.
In Harris' fifth book, Hannibal Rising, a prequel to his other Hannibal novels, readers are taken back to Hannibal Lector's childhood. Readers discover the basis of his cannibalism as they follow him growing up throughout Europe. Like Hannibal, the prequel received mixed reviews. A film adaptation of the novel was released in 2007.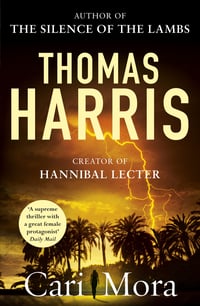 In 2019, 44 years after his debut, Harris published a non-Hannibal book, Cari Mora. Drawing mixed reviews, it was a tale of a Colombian refugee in Miami, Caridad "Cari" Mora, who becomes caretaker of a mansion beneath which is hidden twenty-five million dollars in cartel gold. She comes to the attention of Hans-Peter Schneider, a sadistic psychopath and human trafficker.
Given the lukewarm reception to his most recent book, and his general aura of mystery (Harris gives no interviews, no public appearances, and has been known to consider writing as a form of torture), this may very well be his last novel.
Sources
Hoban, Phoebe. (Apr. 15, 1991). The Silence of the Writer. Retrieved Dec. 29, 2018, here.
Minzesheimer, Bob. (Dec. 2, 1999). Hungry Fans Eat Up "Hannibal." Retrieved Dec. 29, 2018, here.
Streibling, William. (May 2001). Thomas Harris. Retrieved Dec. 29, 2018, here.
Connolly, John. (May 2019). Cari Mora review: Thomas Harris's frustrating, inconsequential collection. Retrieved Jan 28, 2021, here.