Imagine Christmas Eve: Snow sifts down from the night sky, the fireplace glows red and crackles with warmth, and a stately looking family gathers in the living room with food and drink to regale each other with tales of the undead coming to life and psychologically taunting characters until they are driven to madness from fear. Merry Christmas to all, and to all a good night? Yes indeed. Sweet dreams, little ones.
For as odd as this scene might sound, the telling of ghost stories on the night before Christmas was and is a common tradition in England and throughout much of Europe.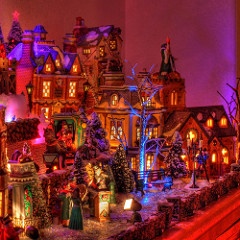 Beginning in the Victorian Era as form of entertainment on Christmas Eve, the telling of ghost stories quickly became as much a Yuletide staple as fruitcakes and sleigh rides, and while some of you may be scratching your head and wondering why English tradition doesn't relegate ghost stories to Halloween, here are a few reasons why spooky tales may have risen to prominence throughout the U.K.
First, the telling of ghost stories has long been an oral tradition. Stories are told and retold over generations, embellished, altered, and changed to reflect the taste and times of the listener. Obviously, without a cable channel playing A Christmas Story on repeat for 24 straight hours, families had very few entertainment options, and oral storytelling was a way for loved ones to gather in one place and experience narrative.
It's also important to note Christmas has not always been a strictly non-secular celebration. Across many religions—even some Angelo-Saxon faiths—Christmas is associated with many Pagan traditions and customs, as well as many secular ones, such as the Winter Solstice and other celebrations of light and dark. In this context, perhaps it makes perfect sense for stories of ghosts and ghouls to be recited by firelight before settling in for a long, Christmas slumber.
Lastly, if we accept Christmas as a time for reflection on the importance of family, good values, gratitude, and togetherness, ghost stories may in fact be the most relevant way to direct our thoughts on these virtues. Many traditional Victorian ghost stories center on ghosts—both literal and metaphorical—from a character's past who have returned to warn him about the consequences of living a miser's existence.
With all this in mind, pour yourself a nice glass of eggnog, dim the lights, and maybe consider breaking out one of these three classic Victorian Era ghost stories before hitting the sack this Christmas Eve.
A Christmas Carol by Charles Dickens (1843)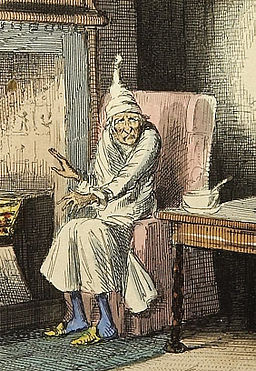 Yes, an obvious choice, but a classic nonetheless. Dickens' tale of the bitter and cynical central character Ebenezer Scrooge and his journey from curmudgeon to redemption became an instant classic and the prototype for many a Christmas ghost story in the decades following its publication. Through visits from the ghosts of Christmas Past, Present, and Future, Scrooge not only sees the follies of stingy, backstabbing ways, but comes to realize the importance and virtue of kindness, charity, and goodwill toward men. Perhaps a little tame by Victorian ghost story standards—though the visitations from the Ghost of Christmas Past are terrifying enough for the night before Santa squeezes down the chimney—the story is at heart a perfect encapsulation of the traditional Christmas ghost story, and many literary scholars credit Dickens with helping popularize the form.
A Strange Christmas Game by J.H. Riddell (1868)
Many may not associate Victorian Christmas ghost stories with women authors, which is precisely what makes J.H. Riddell—that's Mrs. J.H. Riddell—and her classic tale, A Strange Christmas Game, worthy of consideration. It's a story of the unexpected centering on a brother and sister who, via a card game in a house willed to them by a deceased relative, conjure up the spirit of the recently deceased relative in a terrifying journey through the family's past and the circumstances surrounding the demise of their benefactor. Rendered in remarkable detail, A Strange Christmas Game is a chilling story filled with twists and turns that are sure to send your blood pressure spiking even more than your indulgent Christmas feast.
The Tractate of Middoth by M.R. James (1911)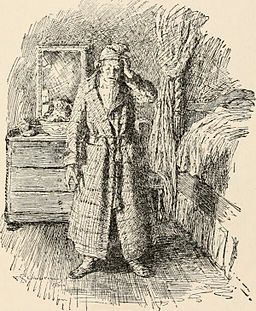 Widely regarded as one of the stalwarts of the Christmas ghost story form, M.R. James' The Tractate of Middoth tells the story of two men who summon a host of ghastly spirits and supernatural beings in a university library after discovering an ancient Hebrew text. The two men are then forced to do battle with the ghouls as they attempt to uncover the text's origins and its mythical powers in conjuring those from beyond the grave. James, a medievalist scholar and provost at both Kings College and Eton College, is perhaps one the most famous practitioners of the classic Christmas ghost story, publishing a series of collections including Ghost Stories of an Antiquary (1904), More Ghost Stories of an Antiquary (1911), A Thin Ghost and Others, (1919), and A Warning to the Curious and Other Ghosts (1925).
James is also known to have hosted Christmas Eve recitations of some of his most famous works, inviting his students into his home for a night of food, drink, and fright, often using these gatherings to road-test new material and even create new ghost stories on the spot.