If you love a good spy novel, chances are you have read many of Tom Clancy's works. But Tom Clancy was not just an author, but the king of a media empire, with his name attached to video games, movies, and non-fiction books on military topics. He was even part owner of the Baltimore Orioles.
Thomas Leo Clancy was born on April 12, 1947 in Baltimore, Maryland. He was the second child of Thomas Clancy, a mailman, and Catherine Clancy. He grew up an extremely active reader and lover of history, in particular the works of naval historian Samuel Eliot Morison. Due to his religious upbringing, Clancy's parents worked very hard to ensure he was able to receive a Jesuit education, both in high school and in college. Clancy earned a degree in English Literature from Loyola College, again showing his love of the written word.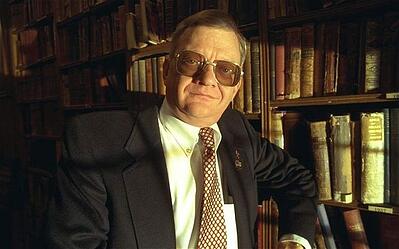 One might assume that Clancy would have pursued his passion for writing after college. However, in 1973 he married Wanda Thomas King, and made the "responsible" decision to work for his wife's grandfather as an insurance agent. Clancy did well in the business, and actually went on in 1980 to purchase the OF Bowen Agency from him wife's grandmother, and began to write in his spare time.
Clancy took the steps to truly change his life when in 1982 he began writing The Hunt for Red October. He sold the manuscript to the Naval Institute Press for $5,000. Prior to the The Hunt for Red October. Before that, he had never published more than a letter to an editor and a single three-page article on a missile. The first printing sold 45,000 copies.
President Ronald Reagan read the book and gave it an unequivocal endorsement, leading to the book to sell more than 300,000 hard covers and over 2 million paperbacks. Clancy was now a best-selling author! His first book brought him more than $1.3 million in royalties, and helped him obtain a $3 million contract to produce three more books. As a result he retired from the insurance industry, purchased an eighty-acre estate on Chesapeake Bay and began his career as a full-time author.
Clancy would go on to write numerous bestsellers featuring his noted hero Jack Ryan. Five of them have since been turned into major motion pictures staring critically acclaimed actors such as Alec Baldwin, Harrison Ford, Ben Affleck, and most recently Chris Pine.
In 1996 Clancy created a video game company, Red Storm Entertainment, which released a series of games based upon Clancy's books and characters. This venture would help him penetrate the multimedia stratosphere, garnering deals worth tens of millions of dollars to write books with accompanying games.
Following Clancy's divorce from Wanda King, he met and married Alexandra Llewellyn, niece of General Colin Powell. When he passed away in Baltimore at age 66, Clancy left behind Alexandra, five children, millions of fans, and one final book, Command Authority, which was released two months after his death.