With the holidays fast approaching, it can be easy to take for granted all of the Christmas cheer that seeps into daily life. From the omnipresence of Christmas lights and miniature Santas to the unabashed spinning of Bing Crosby records, one might be lulled into such a state of wintry bliss that one could forget that the true force of Christmas spirit emanates from one's bookshelf. Here are ten of the most collectible Christmas books to enliven your holiday spirit.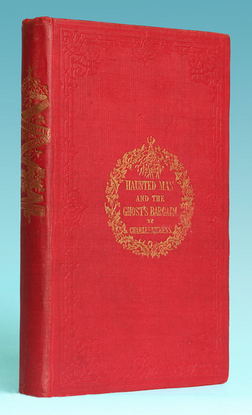 1) A Christmas Carol (1843), Charles Dickens
Written in 1843, many credit this novella with creating the modern conception of Christmas. Yet regardless of whether one grants Dickens the title of "Father Christmas," it is difficult to overstate the mark this tale has left on our culture. A Christmas Carol, a story of yuletide redemption, has become inextricably linked to the Christmas season. Film and stage adaptations, spearheaded by the likes of Bill Murray, proliferate every year, each seeking to portray the charm and resonance of the original.
2) The Haunted Man (1848) Charles Dickens
Few people realize that A Christmas Carol was actually the first of five novellas Dickens wrote about the holiday season. Yet, the lesser name recognition of The Haunted Man should not reflect on the quality of the book. Indeed, as the fifth of Dickens' five Christmas novellas, it serves as a spiritual successor to A Christmas Carol. The Haunted Man presents another, equally poignant tale of benevolent seasonal hauntings and the goodness of man.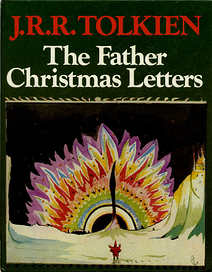 3) The Father Christmas Letters (1976), J. R. R. Tolkien
A small but delightful item released posthumously by Tolkien's estate. The Father Christmas Letters consist of a series of illustrated epistles, ostensibly from the perspective of Father Christmas, written by Tolkien for his children. The stories depict the often comic misadventures of Father Christmas and his helpers. While the jury is still out on whether these will attain the same timeless significance as Tolkien's other work, it is hard to deny the wealth of seasonal delight derived from these inventive tales.
4) A Christmas Memory (1956), Truman Capote
With its often heart-rending depictions of the endurance of the Christmas spirit amid poverty and disdain, Truman Capote's beloved short story captures the joys of friendship and gift-giving with rare poignancy. Its myriad stage, screen, and voice adaptations speak volumes on the emotional resonance of this tale's honest yet caring depiction of two impoverished cousins scrounging year after year for gifts that reflect the deep love that remains emblematic of the holiday season.
5) The Tailor of Gloucester (1903), Beatrix Potter
That Beatrix Potter, author and illustrator of a host of beloved children's books, liked The Tailor of Gloucester best of all her works is perhaps the strongest enticement to seek it out. The tale describes a kindly tailor who repeatedly saves mice from his cat, Simpkin. He awakes one morning to find that the grateful creatures have nearly finished the waistcoat he was sewing for the mayor. The book was described in its day as being "full of that spirit of Peace on Earth (and) Goodwill toward Men." Couple such sentiments with Potter's inimitable illustrations, and a Christmas classic is born.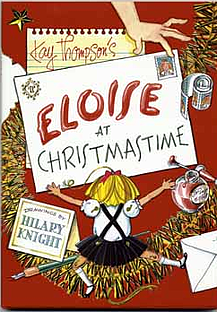 6) Eloise at Christmastime (1958), Kay Thompson
That Eloise remains one of the most beloved characters in children's literature stands as a testament to the blend of youthful invention and easy delight woven by creator, Kay Thompson. It is easy to see why sentiments toward this, the third of Thompson's four Eloise books, are in no way diminished compared to the other books in the series. The inherent charm of New York during the holidays mixes elegantly with Eloise's unique precocity. What could possibly result but a wonderful Christmas tale?
7) A Letter from Santa Claus (1877), Mark Twain
Just as J.R.R. Tolkien's family Christmas letters became classics, so too did Mark Twain's letter to his daughter, Susie. Written in response to his children's letters to Santa Claus, Twain's A Letter from Santa Claus tells them of the kinship Santa feels with children the world over, assures them that any absent presents are missing only because they went to children in more desperate need, and prepares them for an impending visit from Santa (with a trunk of doll's clothes in tow). The letter is not only brimming with Twain's usual wit, but laden with a sense of childlike glee characteristic of Christmastime.
8) The Christmas Nutshell Library (1963), Hilary Knight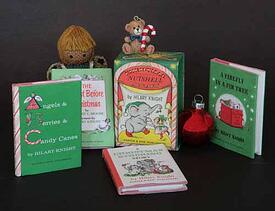 Hilary Knight's illustrations in the beloved Eloise series barely scratch the surface of this writer and illustrator's body of work. To wit, The Christmas Nutshell Library contains four delightful Christmas books, Knight's illustrated edition of The Night Before Christmas among them, each one more full of holiday cheer than the last. There are few better collections from which to imbibe a heady sense of Christmas cheer.
9) Hercule Poirot's Christmas (1938), Agatha Christie
To say that Christie's novel is a wholly unique item on this list would be an understatement. Where most of the Christmas books above have been concerned with peace, love, and redemption, all while keeping a sense of whimsy firmly in tow, Hercule Poirot's Christmas is concerned with – what else? Murder. While the book's account of the yuletide murder of sadistic millionaire Simeon Lee is unlikely to inspire the roasting of chestnuts and the singing of carols, it's sure to make for a compelling read by the fireplace.
10) The Night Before Christmas (1823), Clement Clark Moore
What would a list of collectible Christmas books be without The Night Before Christmas? The careful, winking stanzas of Clement Clark Moore's 1823 poem, also known as "A Visit from St. Nicholas," have been called "the best-known verses ever written by an American," and remain a staple of holiday reading to this day. It's difficult to exaggerate the ubiquity, the impact, or the sheer joy of this beloved children's classic, so let it be said that its inclusion in any Christmas book collection is a indispensable.