It is a fact that this stalwart Christmas poem, now considered a tradition, was initially published as an Account of a Visit from St. Nicholas in New York's Troy Sentinel newspaper on December 23, 1823. It was published anonymously. The poem is credited with connecting St. Nicholas to Christmas and planted the seeds that led to our idea of Santa Claus. It also established most of the reindeer names.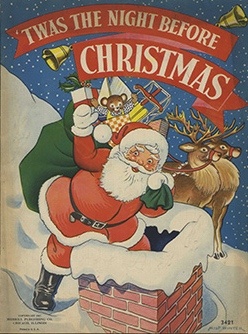 Santa Claus is a legendary figure originating in Western Christian culture who is said to bring gifts to well-behaved children on Christmas Eve and overnight into Christmas morning. The modern idea of Santa Claus grew from traditions that surrounded St. Nicholas, a fourth-century Greek bishop and gift-giver; the British figure of Father Christmas; the Dutch figure of Sinterklaas; and "the Germanic god Wodan who was associated with the pagan midwinter event of Yule" and led the Wild Hunt which was a ghostly procession through the sky.
The common depiction of Santa Claus is a portly, jolly, white-bearded man with or without glasses, wearing a red coat with white fur collar and cuffs, white fur-cuffed red trousers, a red hat also trimmed with white fur, a black leather belt, and black boots, carrying a bag full of gifts for children. This is the image that took root in the United States and Canada as a result of the influence of this poem. This is the image that was subsequently maintained and reinforced through song, television, radio, books, films, and lots of advertising in the years since its introduction.
The Poems' Players
In 1837 the author and poet Charles Fenno Hoffman declared Clement Clarke Moore was the author of 'Twas the Night Before Christmas. Moore acknowledged himself as the author when the poem was published in his collection, Poems. Moore was a professor of Middle East and Greek Literature, and theology, who published items like a two-volume study of A Compendious Lexicon of the Hebrew Language.
Major Henry Livingston Jr. was born in New York and after his marriage in 1774 became a farmer. He held a commission as a major in the Revolutionary War. He thereafter began to write poetry and make drawings for friends and family. He published light verse in regional journals which he often published anonymously or used a pseudonym, R.
The Controversy
The story was that Moore wrote the poem as a Christmas present for his daughters. He is said to have told the New York Historical Society that a portly Dutchman in his neighborhood was his model for St. Nicholas.
It remains unclear how the poem got to the Troy Sentinel. Some claim a family friend submitted it to the newspaper.
The Livingston family claimed the poem had been told to Livingston's children as early as 1807. Since the poem was initially published anonymously and various editions were for many years both with and without any attribution. It wasn't until 1859 that the Livingston family discovered that Moore had taken credit for what they believed was their father's poem.
There has been linguistic analysis to back up the Livingston claim by looking at a statistical analysis of the two writers' use of common words and pairs of words that differ by only one sound, phonemes. The claim is that this usage is largely beyond the conscious control of the writer. And the claim is often made that this analysis points to Livingston as the author of the poem.
Further, it is posited that Moore was a moralist, a pedagogue, and a satirist who just did not have the imagination, humor, or whimsy of Livingston, and thus could not have written such a poem as this.
The Case for Livingston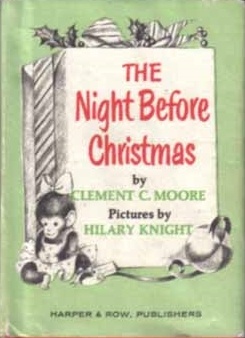 At least four of Livingston's children, as well as a neighbor girl, said they remembered being told this tale of St. Nicholas by Livingston as early as 1807. At that time it was claimed there existed a dated handwritten copy of the original poem, complete with revisions and scratch outs. However, the house where this document was stored burned down.
An Emeritus Professor of English at the University of Auckland, New Zealand, MacDonald P. Jackson, spent his entire career analyzing authorship attribution. His book published in 2016, Who Wrote the Night Before Christmas: Analyzing the Clement Clarke Moore vs. Henry Livingston Question evaluates the opposing arguments. He uses the attribution techniques of modern computational stylistics as well as a statistical analysis of phonemes, and concludes that Livingston is the true author.
There are also records that state that before stepping forward to claim ownership of the poem Moore wrote to the owner of the Troy Sentinel asking if anyone knew of the poem's origins. He was told anybody who knew the poem's roots had died within a few years of its initial appearance. Then he published it in the volume of his own poems.
The Case for Moore
The most obvious fact presented in the case for Moore's authorship is that he stepped forward to take credit for the poem. Also presented as factual is the influence of his friendship with Washington Irving. This friendship was widely known and is presented as an explanation for the Dutch references in the poem inasmuch as Irving was quite involved in the Dutch culture and traditions of New York state.
The Bottom Line
There is no definitive proof for either alleged author of Twas the Night Before Christmas. There exist hundreds of published versions of the poem, as well as a variety of productions, films, and recordings of it that reappear every holiday season. No matter who wrote it, we can all agree that 'Twas the Night Before Christmas holds a special place in holiday lore, and likely will for generations to come.