The late, great Gabriel García Márquez (1927-2014) is best known for his fiction, flowing prose, and use of magical realism. His non-fiction, though somewhat lesser-known, is just as important to his memory. Take for example Clandestine in Chile (1986) – written from an eighteen hour interview with filmmaker Miguel Littin, who sneaked back into Chile after exile to expose the realities of the Pinochet dictatorship. In García Márquez's hands, the already thrilling true story becomes both electrifying and fraught with meaning.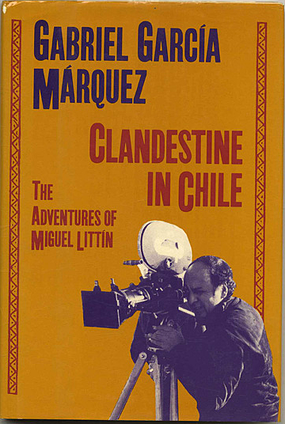 Littin is regarded as one of the most influential filmmakers in Chile's history. Under the socialist rule of Salvador Allende, Littin was named the director of cinema in 1971. Then, only two years later, Allende was ousted by a U.S.-backed military coup led by Augusto Pinochet. Littin, along with many of Allende's supporters, was exiled and fled the country. 10 years later, he formed a plan to disguise himself, return to Chile, and shoot a documentary on civilian life that would prove to the world the horrors of dictatorship.
García Márquez distilled 600 pages of interview transcription with Littin into only 116 pages for Clandestine in Chile many years after Littin returned from his harrowing undercover experience. Littin slipped through customs as a Uruguayan business man with the help of a borrowed passport and a female friend pretending to be his wife, then sent fellow cinematographers from Europe across the country to avoid detection and capture a wide swath of interview subjects. Littin adopted a new accent and shaved his face, apparently fooling even his own mother. In addition to speaking with ordinary citizens, he gained an audience with the leader of the resistance which took place in a secret hospital.
The footage was compiled into a two-hour version for theaters and a four-hour version for television, but it's unclear whether or not the films saw public reception in the United States. Littin's documentary films may not have gone down in history the way he intended, but García Márquez elevated the story in public consciousness simply by writing it down. Critics at the time of the book's release questioned García Márquez's reliability as a narrator and as an editor. Both Littin and García Márquez sought to discredit Pinochet as Chile's leader; their sympathies were aligned, potentially leading to a skewed perspective. However, as time puts distance between the events portrayed and the present, Clandestine in Chile remains as a window into one artist's search for justice and truth.