"Books are the mirror of the soul." -Virginia Woolf
Virginia Woolf, born Adeline Virginia Woolf on January 25, 1882, ended her prolific life on March 28, 1941 by filling her overcoat pockets with rocks and drowning herself in the current of the River Ouse near her home at the age of 59. She's remembered for having brilliantly mastered the art of writing in essays, novels, and letters. Woolf was also a passionate literary critic and an avid diarist.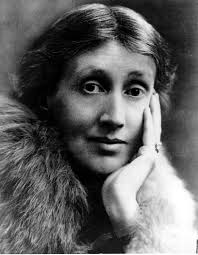 Though she lived her life from within the tortured soul of a woman plagued with bouts of madness following devastating personal events and losses, Woolf's fearless exploration of the inner life, Woolf's ability to capture the obscurity of the human experience and translate it into words is breathtaking. Woolf began journaling at the age of 33, and her personal memoirs and autobiographies have been published with great success posthumously by her husband Leonard Gordon.
In addition to many volumes of personal diaries, she has also been the subject of many biographical tomes including one focusing on her childhood sexual abuse by Louise DeDalvo, a study of her letters by Phyllis Rose, her life as a writer by Lyndall Gordon, and a look into her inner life by John Lehmann and Julia Briggs, separately. The first authoritative study of her life was published in 1972 by her nephew Quentin Bell.

Virginia Woolf was born to a privileged English family, where she was raised by free-thinking parents and home schooled by an educated and well-connected family filled with influences of Victorian literary society and access to an immense library where she and her sister were taught the classics and English literature. Despite her connection to distinguished learning, she was not formally educated like her brothers at Cambridge, a disparity which Woolf would resent.

Woolf's nervous breakdowns began at the age of thirteen when her mother suddenly died, followed by her half-sister. She would also suffer immense psychological trauma at the death of her father in 1904. There is speculation that her breakdowns and depressive periods were shaped by the sexual abuse she suffered from her two half brothers. Despite these periods of emotional instability, Woolf's literary productivity continued with few breaks throughout her life.

She seemed preordained to literary greatness when long before her first book was published, everything else in her life, including her closest relationships, were secondary to her consuming interest in language and character. "I am ashamed, or perhaps proud, to say how much of my time is spent in thinking, thinking, thinking about literature," she would confess. In a light-hearted memory of Virginia's childhood, she is recorded as starting a family newspaper used to document her family's humorous anecdotes.

Woolf met her husband, Leonard Woolf, when she became acquainted with the intellectuals and artists of the famous Bloomsbury Group, and Leonard and herself created the Hogarth Press which purposely sought "work that might not otherwise get into print" including TS Eliot, Katherine Mansfield, and Woolf herself. With the private press, she was freed from the pressure of commercial print and could pursue experimental innovations in modernism. She finished her first novel shortly after her marriage, and it was released in 1915 as The Voyage Out. Woolf used the novel to experiment with several literary tools, including compelling and unusual narrative perspectives, dream states and free association prose. 1925 saw publication of Mrs. Dalloway which received outstanding reviews even with the controversial themes of feminism, mental illness and homosexuality.

Not one to shy away from controversy, Woolf carried on extensively documented affairs with women, with Leonard's blessing, including the married, cross-dressing aristocrat Vita Sackville-West, who would inspire Woolf's novel Orlando.

So, yes. Virginia Woolf committed suicide in 1941. She suffered from anorexia, insomnia and headaches, and sometimes heard voices. She lived with crippling depression. But her legacy? Her legacy is in her essays, letters and books. In those, you will find the reflection of your soul where you "cease from searching out the minute shades of human character, to enjoy the greater abstractness, the purer truth of fiction."