Are you interested in doing more than just reading the works of Nadine Gordimer? If you're ever visiting Bloomington, Indiana, you might consider scheduling a visit at the Lilly Library to explore the materials contained in The Nadine Gordimer Papers. As most lovers of Gordimer's fiction and South African literature in general know, the Nobel Prize-winning author was born in Springs, South Africa to Jewish immigrant parents in 1923. She wrote fiction for much of her life, with her first short story published in the Children's Sunday Express when she was 15 years old. The New Yorker published one of her short stories for the first time in 1951, introducing world readers to Gordimer's work. Now, researchers at the Lilly Library at Indiana University can have access to Gordimer's correspondence, lectures, speeches, notes, and drafts from 1934 to 2001.
Looking Through Gordimer's Correspondence at Indiana University, Bloomington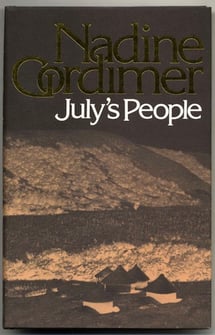 According to the website* for the Lilly Library, this stunning special collections library contains approximately 400,000 books and more than 7.5 million manuscripts. The Nadine Gordimer Papers is one of the fabulous collections available for literary scholars and other researchers interested in the South African writer's life and work. The collection is a large one, containing around 6,700 items connected to Gordimer's fiction writing and work in anti-apartheid politics.
There are four entire boxes of correspondence that span the years 1948 to 1989. Nadine Gordimer exchanged letters with numerous scholars, literary agents, fiction writers, and other anti-apartheid activists in South Africa. Of particular interest for readers of South African literature is Gordimer's correspondence with Es'kia Mphahlele. Mphahlele, like Gordimer, was a fiction writer and political activist known best, perhaps, for his 1959 novel Down Second Avenue. He was nominated for the Nobel Prize for Literature in 1969. In addition to correspondence with Mphahlele, Gordimer also exchanged letters with Nigerian novelist and critic Chinua Achebe who famously wrote Things Fall Apart (1958). There are also entire folders of correspondence with various literary agents, publishers such as Simon & Schuster and Viking Press, and editors at The New Yorker.
Drafts, Diaries, and Notebooks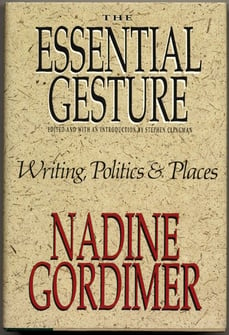 If you're interested in looking at drafts of Gordimer's writings, the collection is truly expansive. Indeed, there are 12 boxes dedicated to the South African Nobel Prize winner's "early writings, articles, book reviews, novels, scripts, short stories, short story collection, speeches, etc." according to the finding aid. Many of them have annotations and corrections done in Gordimer's own hand, and most of the writings contain specific descriptions compiled by Gordimer herself. In case you're not certain of the scope of this part of the collection, let us just say that each box contains anywhere from 20 to 50 folders each.
The Gordimer collection also contains a number of diaries and notebooks kept by the author, which include personal, handwritten notations and ideas for many of her works of fiction. In addition, visitors to the papers can hold and view a diary Gordimer kept while traveling through Kruger National Park and into Mozambique, which includes small drawings and doodles.
Archives containing a writer's papers are essential for literary scholars, but they can also be an exciting source of information for readers and lovers of political literature like Gordimer's novels and short stories. If you find yourself in Bloomington, IN, why not schedule a visit to the Lilly Library to see for yourself?
*Browse the full website here.