Gilding is an overarching term that can be used to describe the art of applying a thin layer of gold leaf or powder to surfaces such as stone, wood, or metal. Gilding was used by the early Egyptians, and, according to Pliny the Elder, it became common in Rome following the fall of Carthage. Gilding today can be found in woodworking, ceramics, architectural and interior designs, and of course, book binding.
Book sellers and collectors use the terms gilding and, commonly, gilt, when referencing a book's decorative gold appearance. Often we see book sellers describe their books as having all gilt edges or gilt stamped titles. These descriptors tell a collector about the decorative nature of the collectible, but what about the process that goes in to making them so? Let's take a look at some videos of the art.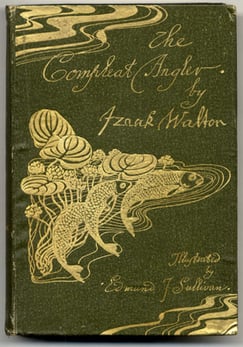 Gilding can be completed using gold-tooling, embossing (which stands out in relief), and stamping. We've compiled several videos to demonstrate some of these techniques. So, the next time you marvel at a gilt decorated book cover or book edges, you can know what went into the gilding process.
See the process through which the gilded edges of your favorite books came to be in this video from Shepherds Bookbinders.
This is a simple video demonstrating gold tooling a line on the spine of the book. Although it is basic in nature, the narrator does a nice job describing the process which he completes by hand and the tools he uses to apply the gilt decoration to the spine of the book.
This lengthy video gives a comprehensive look at the process of gilt stamping on a book cover and spine using the Kwikprint press. The terms stamping and embossing are often used interchangeably, but according to an article from University of Adelaide's Rare Book Books & Special Collections* department:
"During the embossing process a decoration or picture is impressed into the cloth or leather (via an embossing press) using a set of heated (usually brass or copper) male and female dies…In stamping, the process is similar but a brass stamp, as opposed to metal dies, is used to create a pictorial or letter impression via an arming press."
The video above from Restoration Books demonstrates stamping with gold foil using a 19th century arming press.
In this short video, hear from book binder Daphne Lera about what she sees as the most difficult part of the book binding process.
*Adelaide University source here.