Paper marbling is an art form that may well date back more than a thousand years. The technique involves creating paint patterns on top of a container of water and transferring those patterns to paper, usually paper of high quality. The result is stunning, unique designs that can be used for covering leather-bound books or simply as decorative art in its own right. At the very latest, it first appeared in 12th century Japan before spreading across Asia. In the 15th century, it had either made its way from East Asia or been re-invented independently in Turkey, where a new, more sophisticated version of the practice (called ebru) would gain popularity. This spread throughout the Islamic world and eventually reached England around the 17th century. There, marbling was used not just on books but also for wrapping gifts and lining drawers and shelves. Want to see the process for yourself? We've compiled some videos of paper marbling.
Because of the delicacy of the work involved in marbling paper, its results are not suitable for mass production. As a result, marbling in the 21st century is largely the purview of a handful of artisans spread across the globe—most either working in book restoration or for fine presses (like Heavenly Monkey). The relative rarity of this practice, almost as much as the intrinsic beauty of the patterns created, effectively turns any book covered with marbled paper into an art object.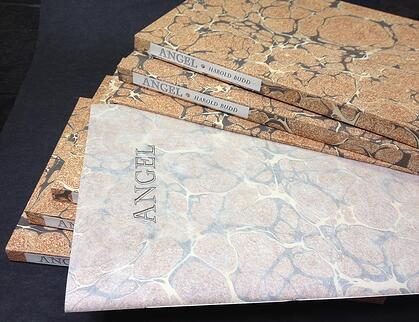 For a quick overview of the marbling process (and a nice look at the result), this video from the Folio Society is a good start. It shows Jemma Lewis discussing the process of marbling paper for the fine press Letterpress Shakespeare series.
This next video covers much of the same material, but in greater depth and with a little more information on the history of the practice and its status in the 21st (well, at the time 20th) century. Come for the educational content, stay for the cheesy British documentary production value.
Because marbling is largely the purview of fine presses, you can bet that there is also a serious DIY contingent with an interest in the technique. If the first two videos (or years of being mesmerized by Heavenly Monkey's book covers) have inspired you to attempt your own marbling, this video offers an in-depth introduction to the slightly simpler Japanese version of the art form.
Lastly, a video montage showing off some of bookbinder Robert Wu's most striking marbled papers. No educational content here, but those peacock inspired designs are just stunning.