May 31, 1819 marks the birth of one of the nation's most influential poets! Walt Whitman was born in West Hills, New York, the second of nine children to parents Walter and Louisa Whitman. He grew up in a family that would struggle financially throughout much of his childhood. When Whitman was three years old, his family left their ever-shrinking farm for what they hoped would be the riches of New York City.
An Early Start in Journalism
Unfortunately, Whitman's father was not a successful business man. He made many poor investments, and was forced to pull eleven-year-old Whitman out of school to work and help support the family.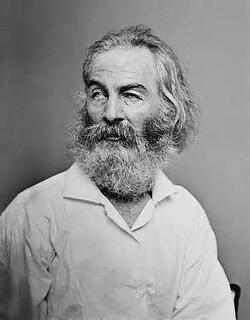 Whitman began work in the office of Samuel E. Clements as an apprentice, and a "printer's devil" for the weekly Long Island newspaper The Patriot. There he got a feel for both the print business and writing.
After his father and family returned to West Hills, Whitman stayed in New York to work, first at The Long Island Star, then beginning teaching at a one room schoolhouse in Long Island. After five years as a teacher, Whitman again returned to the print business, this time as a journalist. He began his own paper called The Long Islander, gaining enough success for him to eventually return to the city to become editor of the Brooklyn Daily Eagle, a prominent newspaper of the day.
However, Whitman was unable to maintain a position as an editor. Over the course of four years, Whitman was fired from seven different newspapers! His opinions regarding women's rights, labor issues, and immigration were just too strong and often radical for him to work in the mainstream of the industry.
Looking for a New Home in New Orleans
In 1848, Whitman attempted to find a new home, moving to New Orleans to work as editor of The Crescent. This was one of his shortest lived assignments. But despite his short tenure there, he gained a new perspective in seeing firsthand the effects of slavery and the slave trade in the United States. When he returned to Brooklyn, Whitman began a "free soil" newspaper called The Brooklyn Freeman. Over the next few years Whitman would begin to ruminate on the issues of oppression as felt both by the slaves of the South and by the downtrodden and poor Hispanics whose lives were affected by the Mexican-American War. He turned inward and began to search for a poetic voice by which he could share his observations.
In 1855, Whitman released a twelve-poem volume of poetry named Leaves of Grass. This work was a dramatic departure from tradition poetry of the time period. Meter and rhyme were not there, and Whitman used a first-person voice. Whitman was forced to self-publish his first edition because the themes were considered far too bold, with its hints of homosexuality, acceptance of prostitutes, empathy for slaves, and references to Adam and Eve as myths. Neither the first, second or third edition received much praise or commercial success. In fact by 1862, Whitman had returned home to live as the patriarch of the Whitman family caring for his alcoholic brother, mentally unstable sister, and his mentally handicapped brother.
Inspiration in the Civil War
During the Civil War, Whitman became a volunteer who would visit wounded soldiers. It was during this time, amongst the more than 100,000 patients he saw that he would meet Peter Doyle, a young Confederate soldier who would become his companion for throughout the next several years.
As the years moved forward, Whitman would publish several other works of poetry. However, none mattered to him the way that Leaves of Grass did. He eventually gained some level of success and was finally able to buy his own home in Camden, New Jersey. Yet he was still disappointed by the state of the country following the end of the Civil War – so he continued to write. By the time that he passed away at his home in Camden on March 26, 1892, Whitman had tinkered with Leaves of Grass for more than 33 years and the volume skyrocketed from a mere twelve poems to more than 300.