When "The Legend of Sleep Hollow" was published in 1820, the United States of America was a young nation. American-born authors were decades away from producing central classics like Leaves of Grass and Moby-Dick, and the cultural direction of this brave new world was anyone's guess. The country was in need of a strong and talented writer to steer her on the right course. This author was Washington Irving.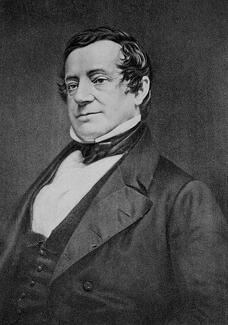 Washington Irving was the first person in the United States to make a living by his pen alone. While many authors came before him, none did as much as Irving to assure that American literature would become a significant cultural institution. After all, not only did good work need to be written, but a readership for American writers needed to be cultivated. The nation's authors needed an audience willing to buy their books and periodicals as well as one that supported and encouraged the country's future talent to write.
For Irving, success first came with A History of New-York (1809). He published the book under the pseudonym Dietrich Knickerbocker. Not only did Irving invent this name, he invented a character around it and orchestrated a city-wide hoax. The author wrote missing person advertisements in newspapers and periodicals, claiming that an old Dutch historian, Dietrich Knickerbocker, had disappeared from his hotel, leaving behind a manuscript. New York City was attracted to this strange story. A History of New-York became immensely popular and made the young author famous.
The book was a satirical history of New York City and poked fun at politics, society, and the city's historical conception of itself. Washington Irving was bold enough to suggest why it was so well received. He wrote: "[A History of New-York] gave me celebrity, as an original work was something remarkable and uncommon in America." Irving was a pioneer, but not an unwitting one.
As for Dietrich Knickerbocker, Irving would later attach the name to his most famous short stories, "Rip Van Winkle" and "The Legend of Sleepy Hollow." The Knickerbocker name would lend itself to all things Manhattan - from its residents to its NBA Team. The Knickerbocker Group was also the name given to America's first school of writers, which included Irving himself, James Fenimore Cooper, and William Cullen Bryant.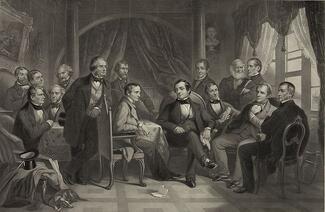 Irving produced far more than just fiction. He wrote biographies, including one on George Washington which spanned five volumes. He also penned a biography on Christopher Columbus and was responsible for spinning the myth that critics of Columbus feared the world was flat. This wasn't the case; humankind has proven the shape of the Earth since antiquity. But Irving, in this embellishment, wrote an enduring part of American mythology that appealed to the nation's desire to celebrate its rugged individualism.
Aside from his significant writings, Irving's role as an advocate and personality was crucial to the auspicious start of American fiction. The man was well-traveled. He served as ambassador to Spain and composed some of his finest work in England.
Irving spent seventeen years living on the other side of the Atlantic. He befriended the great British authors of his time. He enjoyed a romance with Mary Shelley. He hosted Charles Dickens at his home in Tarrytown when he was visiting on his American tour. In fact, as a friend of foreign talent and an advocate for American literature abroad, Irving may only be rivaled by that other famous transatlantic scribe, Henry James.

His efforts in advocating for American literary legitimacy abroad and his support of writers in his country cannot be overstated. Irving's most famous stories, "The Legend of Sleepy Hollow" and "Rip Van Winkle," published in the collection, The Sketch Book of Geoffrey Crayon, Gent, are set in New York State. Still, many of the pieces in The Sketch Book take place in Britain, where Irving was living when writing them. The Sketch Book, drawing on the New and Old Worlds Irving was familiar with, had a wide appeal and happy reception. Arguably, his was the first American book to be popular at home as well as in Europe.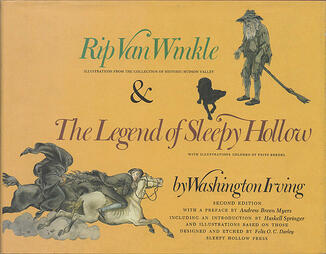 This was important. Irving understood that no matter what popularity he had domestically, the early nineteenth century audience that the United States offered was not sufficient. For grander recognition and compensation, he was obliged to also look toward the cultural bastions of Europe.
Irving set the foundation for his talented successors, and supported writers like Melville, Hawthorne, Poe, and Longfellow. He attracted international attention to his culturally inchoate nation. With his eyes on the future, Irving was a firm proponent for copyright protection for authors in an age when the theft of intellectual property was minimally penalized. He fell victim to dastardly periodicals reprinting his stories without permission—or compensation—and knew the importance of protecting writers so that our culture may continue to enjoy them. Irving, as an author, intellectual, and man of society, wanted to assure that the United States would be an artist's nation. We can only hope his dream will continue to be true.