Presidential election season; the high-stakes political race that comes around once every four years and determines the leader of the United States, the future of the American people, and the mood of our relatives at Thanksgiving dinner. When faced with such a big decision, it can often be helpful to first take a look into the past. As you head to the polls this November day, consider checking out one of these seven presidential books.
1. Dreams from my Father: A Story of Race and Inheritance
Written by Barack Obama in 1995, this is a great way to get to know our current president before he was elected into office. President Obama went on to author The Audacity of Hope (2006) and a children's book, Of Thee I Sing (2010). As we bid farewell to our commander-in-chief come January, we can't help but wonder if there will be more books in his future.
2.. Decision Points
Written in 2010 by our 43rd president, George W. Bush, Decision Points reflects on the choices and challenges in his life both inside and outside of the White House. If you're looking for a book by former President Bush that details his journey to the White House, we'd recommend checking out A Charge to Keep (1999).
3. The Memoirs of Richard Nixon
Much has been written about Richard Nixon—notably, the Watergate Set and other exposés on Nixon in office and out of office. But, if you're looking to read about Nixon in his own words, The Memoirs of Richard Nixon is the book for you. Published in 1979, this book goes behind the scenes of one of America's more notorious leaders.
4. John Adams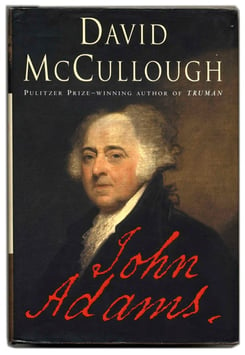 If you want to venture further into America's history, perhaps pick up a copy of this 2001 biography written by David McCullough. McCullough earned the Pulitzer Prize for his efforts on John Adams, and HBO adapted the book into a miniseries.
5. Team of Rivals: The Political Genius of Abraham Lincoln
Written by historian Doris Kearns Goodwin and published in 2006, this book offers a fresh perspective on a familiar president. Steven Spielberg's film Lincoln was based in part off of this book, one which the New York Times calls "An elegant, incisive study".
6. A Thousand Days: John F. Kennedy in the White House
Winner of both the Pulitzer Prize for Biography or Autobiography and the National Book Award for History and Biography, A Thousand Days: John F. Kennedy in the White House is a safe bet. It was written by Arthur M. Schlesinger Jr. and was published in 1965.
7. Amelia Bedelia 4 Mayor
Written by Herman Parish and illustrated by Lynn Sweat, this children's book is the perfect fit for election day. Though Amelia Bedelia is not running on a national level in this story, it's entirely possible we'll see her name on the U.S. ballot in the future…after all, don't we teach our children that anyone can become president?